Buy your first watchwinder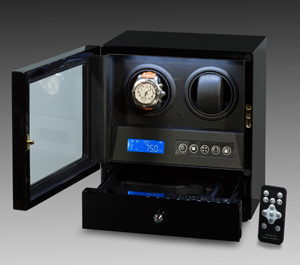 When your interested in automatic watches there is a moment that you have several automatic watches and want to wear more than one regularly. The problem is that when you want to change the watch for another, this watch doesn't run as there is no energy left in the watch.
What you can do is wind the watch by turning the crown or gently shake the watch whereafter you adjust the time, date and other functions. As we all know this could be a time consuming job. To make our lives more simple there are watchwinders! A watchwinder does wind your automatic watches so you can wear the preffered watch immediately without adjusting the time and date as a result there was no energy left in the movement.
How to buy your first watchwinder
When you have a small watch collection of 2-3 pieces we advise you to buy a watchwinder suitable for 3 or 4 watches. If you have a free turntable there is always a good excuse to buy another automatic watch:)
The price of the watchwinder depends from the watches you have. There is no point in buying a cheap watchwinder when you have several high end watches from brands as Breitling, Rolex or IWC. Then don't be a "scrooge" and buy a beautiful watchwinder from a well known brand that fits to your watch collection.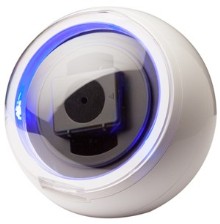 When you're just starting your watch collection, then we advise you to buy a relatively cheap watchwinder (up to 300 USD) to gain experience with watchwinders in general. Then you can discover exactly what you need and save money to extend your watch collection. Don't buy a watchwinder with Chinese motors, as they break down quite quick. Buy a watchwinder with Japanese Maibuchi motors, or when you have more money to spend a watchwinder with Swiss motor.
We advise to buy a watchwinder with the adjustable TPD (turns per day) function as it's better to have options for different automatic watches. Then you can select the exact TPD per watch. Normally, all watchwinders do rotate left, right and alternate so the preffered direction of rotation of your watch is covered.
Enjoy your watch collection, and make sure you have a good watchwinder to keep them turning:)