Scatola del Tempo overpriced watchwinders
At Baselworld we were invited at several brands which produce watchwinders. Thereby we always take a look at booths of other watchwinder brands. We take a look at the new collection, the innovations and try to get some inside information from the brand itself.
After our visit at Buben & Zörweg we rushed to the booth of the Italian watchwinder producer Scatola del Tempo. They claim that they invented the first watchwinder. They also claim that they are a high end brand with perfect quality watchwinders. Scatola del Tempo positions itself in the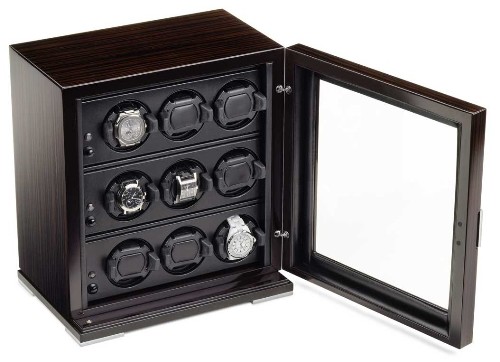 range of Buben & Zörweg, Erwin Sattler and other leading brands. The questions is, is this correct?
When we take a look at the Scatola del Tempo watchwinders we see nice watchwinders made of wood or leather (leather covered). The watchwinders are handmade in Italy. But when we take a closer look we see a watchwinder collection which haven't changed many years regarding materials, innovations or technique. A Scatola del Tempo watchwinder is a very simple watchwinder with a minimum of extras or functions. They don't have special technique or design which makes them more special than other (less expensive) brands.
So why pay a lot of money for a standard watchwinder, which other brands do offer for 20%-30% of the Scatola del Tempo prices. To be honestly, we don't know.....In our opinion you pay a lot of money for the brand(name), not for perfect quality, material or special functions. Many other watchwinder brands do offer far more interesting watchwinders with the latest technique made of beautiful wood or genuine leather, at a much lower price.
Maybe this is the reason the sales of Scatola del Tempo were not that great in 2013 in Europe. At Baselworld we spoke with a few dealers and they told us they sold less than expected. We think the consumer is too clever to buy a "high end" watchwinder which doesn't offer the quality, design and functions which belong to such a high price.
In our opinion Scatola del Tempo shouldn't trust on their history, it should invest in new watchwinders with innovations and perfect specs for a fair price. Is Scatola del Tempo a high end watchwinder brand? In our opinion not, because they only focus on materials like wood and leather, but only materials don't make a beautiful watchwinder. If they don't innovate they will loose from their competition which is really keen on developing their watchwinder collections.
Within the next week we will test a Scatola del Tempo watchwinder in our Review section.