The new Benson Black Series Pro watch winders
One of the best watch winder brands that offer a very good price/quality ratio is Benson. This Dutch brand is one of the most promising brands in the field of watch winders. The brand combines quality with sustainability and functionality.
This Dutch watch winder brand recently presented its latest models in the Black Series Pro collection. This collection contains watch winders with an extra large capacity for winding automatic watches. The Pro 12.19 and 16.19 models are suitable to wind 12 or 16 watches. The news is that Benson will soon be presenting two new models that are suitable for winding up 20 and 24 automatic watches. These new models have the same design and technology as the current Benson Black Series Pro models.
The Benson Black Series Pro watch winders are characterized by a sleek and modern design, state-of-the-art technology, touch screens, LED lighting and individual control for each winder. This allows you to wind each watch individually according to the direction of rotation and the number of revolutions per day. The watch holder is adjustable so that it is suitable for every type of watch. You can wind watches from Rolex, Omega, Breitling, Patek, IWC etc etc. These watch winders from Benson will wind any automatic watch, regardless brand or model.
The strong glass door of the Benson Black Series Pro watch winders offers a perfect view of the rotating watches and is also lockable by a key. On the inside of the watch winder you will find two touch screens to adjust each rotor individually and a drawer in which extra watches or other jewelry can be stored.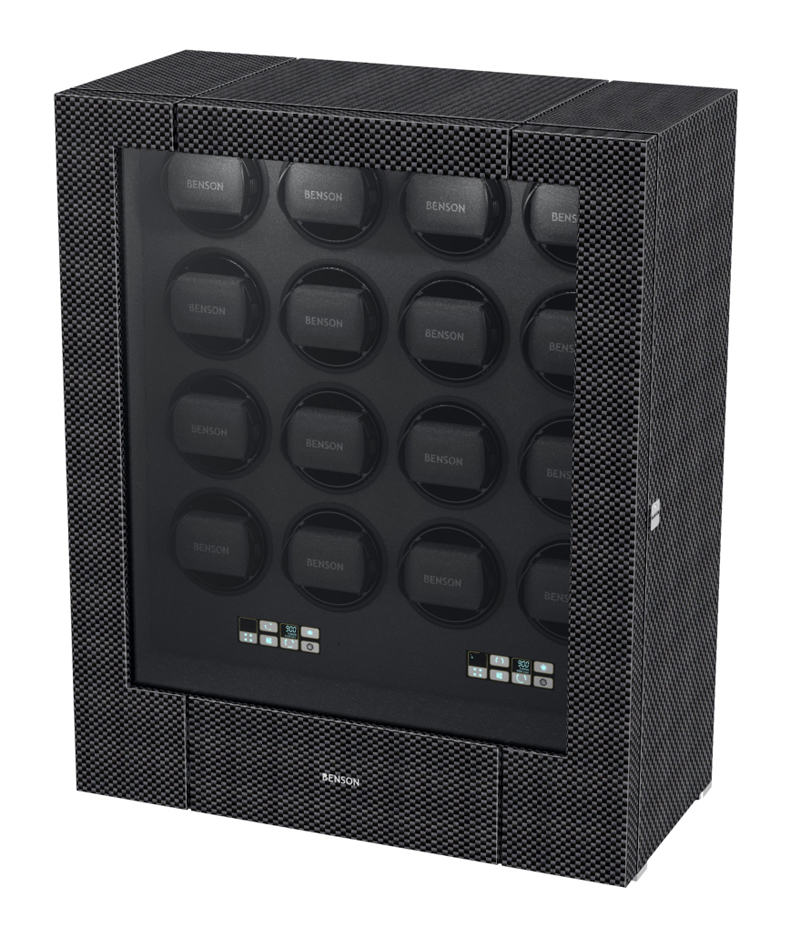 For the true watch enthusiast, a watch winder is a must have. However, for the real collector, a large watch winder with space for many automatic watches is a requirement. With the Benson Black Series Pro watch winders you have all watches directly available, safely stored and always ready to wear immediately, without having to wind the watch manually first. This not only saves a lot of time, but also improves the durability of the watch. After all, for manual winding and setting the time correctly you have to open the crown. The crown is one of the most vulnerable parts of a watch and you prefer to open and close as little as possible.
The Benson Black Series Pro watch winders are currently available for 12 and 16 watches, in the exterior colors black and carbon fiber. The new models that are suitable for 20 and 24 automatic watches and will be available soon. We already tested the version for 16 watches, and when the new models are as good they will be hard to resist for the watch collector who wants the best for his or her watches.