Underwood London watchwinders at Baselworld
During Baselworld we met ms. La Ferla and mr. Lintrup from Underwood London in a hotel nearby the exhibition square. La Ferla is general manager from Underwood at the head office in Italy and Lintrup is the distributor for the UK and Scandanavian countries.
After a passionate introduction about the Underwood London watchwinders by La Ferla we had the chance to check out the newest watchwinders from this promising Italian brand. Since the 90's Underwood did specialize in producing watchwinders with a modular winding system. The main charasteristics of the brand can be described as traditional, Italian and quality.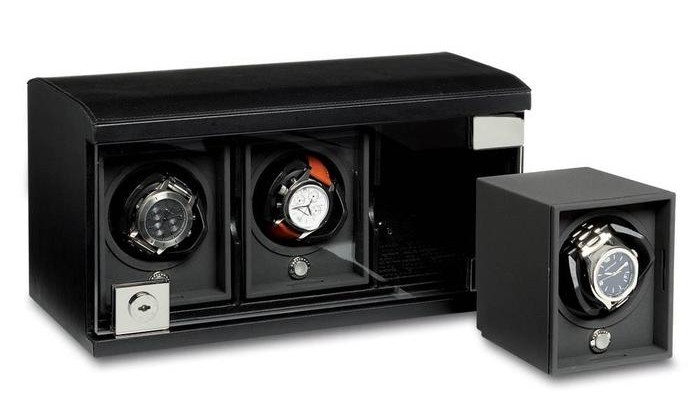 When we take a look at the Underwood London watchwinders we see similarities with some other brands. Many watchwinder brands do have a modular system, suitable for those consumers who want to wind just one automatic watch and maybe expand their collection in the future. Underwood London does not only offer the single modular watchwinder systems, but also the storage compartments to store the systems all together. Therefore you can build up your collection of watchwinders very easy. An advantage is that in case one modular watchwinder system is defective it can be replaced or repaired quite quick.
The Underwood London watchwinders do look quite similar to the Orbita and Scatola del Tempo watchwinder models. In our opinion the brand should do more to offer a more unique style and design to distinguish itself from other watchwinder brands. The quality is solid with Maxon motors but we expect more from Italians, with beautiful brands as Ferrari, Versace, Ducati, Armani etc etc.
Do we like the Underwood London watchwinders? Yes, we love the passion from this Italian brand, and the watchwinders really do look good. But in this price class the consumer may expect a little more than just a modular winding system, with basic features that are very common. Thereby, when Underwood London is able to produce high-end watchwinders with an own style and modern functionalities they can compete more easy with other famous brands.