Watchwinders.com - a new online store for watchwinders!
As writers for blog about watchwinders we are always interested in news about watchwinders. Not only we are interested in brands with news about their latest models and newest technology, we are also keen on shops who sell watchwinders. It's nice to see that more and more online stores do focus on selling watchwinders as perfect accessory for automatic watches. There was a time that watchwinders were only sold by jewelers but the last 5 years more and more watchwinder brands do sell online, by official dealers and/or their own online store.
We think this is a great development, as it gives the consumer more options to check out models and compare different models and brands with each other.
Watchwinders.com, a new online store for watchwinders.
Recently we saw a new online store which did attract us because of the trendy webdesign and interesting brands. We did get in touch with the owner and he informed us that after launching Watchwinders.nl in 2010 for the Dutch and Belgian market he noticed a growing interest from consumers abroad. Then he developed a new business plan to sell worldwide with a more global online store. At the end of 2013 they did purchase the URL watchwinders.com from a US company and started developing a new online store on it.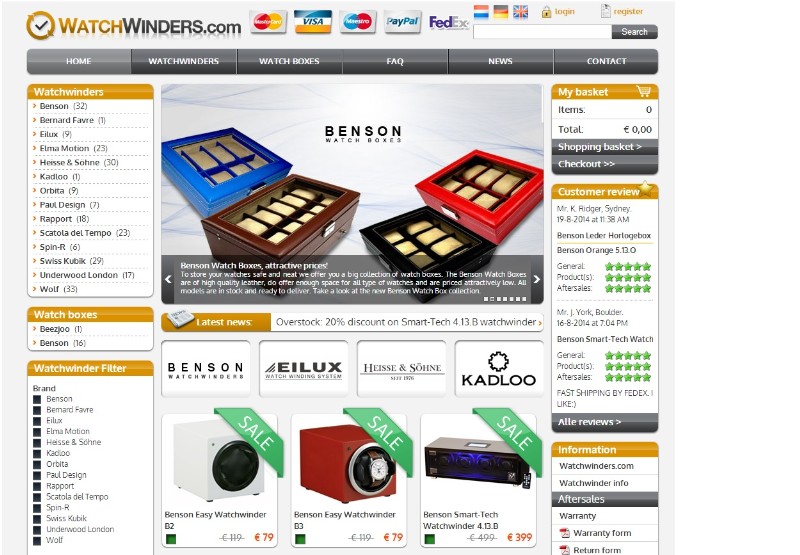 Now Watchwinders.com is live for 2 weeks. With brands as Swiss Kubik, Rapport, Underwood London, Scatola del Temo, Bernard Favre, Elma, Eilux and less known Benson, Paul Design and Heisse & Söhne they have a great collection of low, middle and high-end range watchwinders.
To sell watchwinders internationally you need to offer several payment and shipping options. Thereby delivery directly from stock is important to supply the customer quickly. In our opinion Watchwinders.com did a great job by considering what a consumer nowadays expect when he/she buys online. All options are available and there is a great mix of brands.
Did you see another interesting shop with nice watchwinders? Please e-mail us!