Benson Smart-Tech 8.13.B watchwinder - Dutch design
In this first review we test the Benson Watchwinder 8.13.B. This watchwinder is a model of Benson Watchwinders, a relatively new brand from the Netherlands.
With more than 6 years experience Benson Watchwinders produces a mid range collection of watchwinders with focus on quality, details and an affordable price level.
In the Netherlands and Belgium they have a network of more than 20 official dealers, mostly jewelers. For a small brand this is quite special, even more when we consider that a jeweler his shop display space prefers to use for watches. Thereby there are some web shops selling Benson Watchwinders and ship worldwide.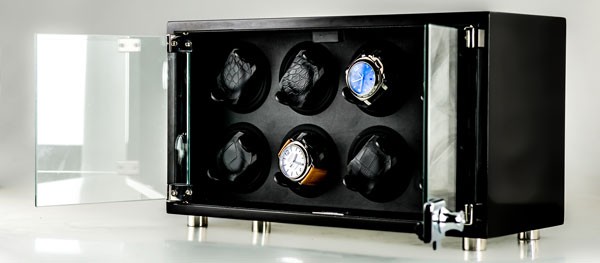 In the field of watchwinders more and more start-ups are successful because there is a big price gap between 100-600 euro. In this gap there is room for brands like Benson Watchwinders. Nevertheless consumers do demand a good watchwinder for a fair price. Consumers do focus more on quality products. And a watch fanatic respecting his automatic watch collection won't buy a cheap watchwinder with Chinese motor.
It seems that Benson Watchwinders understand what the consumer wants; a well madewatchwinder for a fair price. Let's take a closer look at the Smart-Tech 8.13.B, their flagship model.
Design
When we take a look at the design we think Benson Watchwinders did a great job. The design is quite modern and has nice lines. The watchwinder shape is rectangular but has slight curving edges creating a beautiful effect.
The glass doors allows us to have a great view on the automatic watches turning arround. The special lock fits into the design but is not a real lock to keep your watches safe against burglary. On top there is a touchscreen to set the watchwinder according your preferences. Benson Watchwinders did choose to have the touchscreen on the top because it's easy to use and you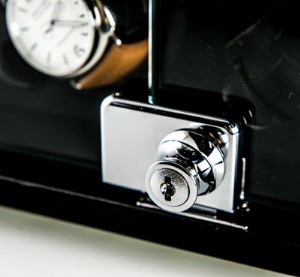 don't have to open the glass doors to adjust the settings.
The stainless steel feet give the watchwinder a more luxury style. In combination with the 12 layers of lacquer it gives the watchwinder class.
Originality
In our opinion the watchwinder case is okay but nothing special. The modern look is nice, but not unique. But, the stainless steel feet in combination with the glass doors and touchscreen on top is really clever and more modern than what we have seen before in this price range.
The watchwinder can also be controlled by a remote control and this is a nice addition. It's not an addition you really need to have, but it's nice to set the watchwinder sitting on the couch with a beer in your hand.
Really nice to see is that when the watchwinder is stopped all rotors do stand still in the same position. It's one of the nice features Benson Watchwinders offers in this flagship watchwinder.
If you like to take a good look at your automatic watches turning around in the watchwinder you can turn the LED lighting on. The blue LED's provide a nice glow to add a bit more visibility as well asan beautiful apperance.
Quality
The Benson Smart-Tech 8.13.B watchwinder has Japanese Maibuchi motors which are proven reliable and used by many other brand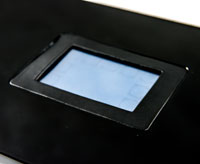 * We tested the watchwinder for more than one week. When the glass doors are closed you can't hear the watchwinder at a distance of 15-20cm. The watchwinder is incredible silent and can be used in a bedroom without any problems.s. Therefore the motors are solid and durable. Benson Watchwinders claims that the motors are very silent over a long period.
The rotors do turn very smooth and without any shocks. The touchscreen and remote control are accurate and directly translates the instructions to the motors.
You can select directions as clockwise, counter clockwise and alternate. Thereby you can select the TPD (turns per day) to set the watchwinder exactly as you prefer. Each rotor can be selected and set individually. Therefore you can use any automatic watch in this watchwinder.
Finishing
In our opinion finishing is really important. There is no such disappointment when a product is not according that what you may expect of it. We think finishing separates the good watchwinders from the bad.
The finishing of the Benson Smart-Tech 8.13.B watchwinder is quite good. The watchwinder is made well according a clear production plan. The paint is really nice, the case is solid and the inside material is of good quality too. There is only one remark; we think the glass doors are quite heavy and therefore not that easy to use. On the other hand it's reall glass and not plastic like many other brands use.
Price level
This Benson Watchwinder has an official retailprice of 799 euro approximately 1050 USD. For a watchwinder suitable for 8 automatic watches, including features as a touchscreen, glass doors, Maibuchi motors, remote control and modern stainless feet…..we think the price is more than fair compared to other brands.
Nevertheless maybe they can increase the warranty of 1 year to 2 years. I think many consumerswill like this and gives them a even more comfortable feeling.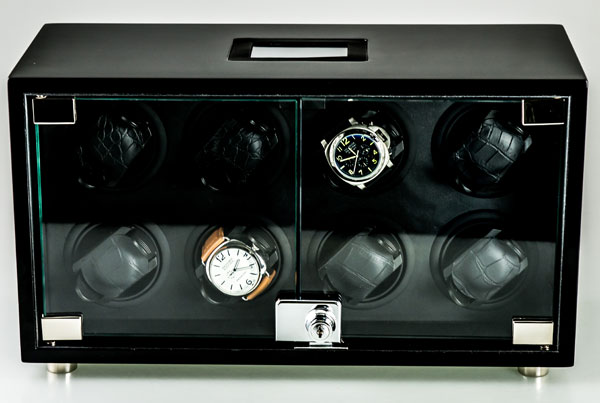 Conclusion
We tested this watchwinder with great joy! It's looking great, has nice functions and does operate silent. Thereby the watchwinder is easy to use and winds up all tested watches without any problems.
The Benson Smart-Tech 8.13.B watchwinder is a luxury watchwinder with great looks and fair price.