Scatola del Tempo Rotor One HDG: failed to impress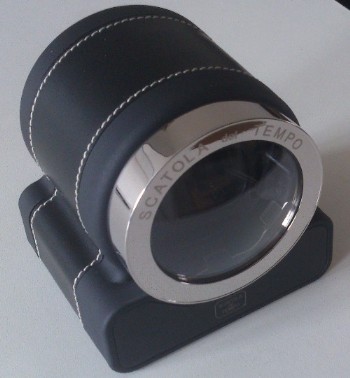 Here is our latest review about the Scatola del Tempo Rotor One HDG, in black color. Scatola del Tempo is an Italian brand which does produce watchwinders for a long time. They focus on high end materials and are in the same price segment as Buben & Zörweg and Elma. They claim that they did produce the first watchwinder.
We decided to test this single watchwinder from Scatola del Tempo because most models are quite big and less populair. The Rotor One models are priced reasonable which makes a high end watchwinder attractive for many consumers.
But is the Scatola del Tempo Rotor One HDG as good as the Italians say? Is the watchwinder offering a good price/quality ratio? We did find out…..
Design
Italians are famous because of their great feeling for design. We can say that brands as Ferrari, Gucci, Versace and Ducati produce really beautiful things. If we take a look at the current collection of Scatola del Tempo watchwinders we see many nice models but not that different from other brands. It doesn't look like they spent a lot of time to develop new and different designs.
The Scatola del Tempo Rotor One HDG is a small and compact watchwinder. It has a special form with many curves. The front has a plastic cover which protects the watch against dust and other influences. It's a pity that the cover is not made of real glass, what you might expect at this price level. Therefore the front feels a bit cheap.
The backside is sober and is only worth mentioning because the batteries do go in here.
When we take a look at the outside material of the watchwinder we see a nice leather finishing. It feels good and does look nice.
Originality
The Scatola del Tempo Rotor One HDG has a special "clock" design and therefore does look special compared to watchwinders from other brands.
Because it's quite a simple and sober watchwinder there is not very much to say about it originality. It's different than other watchwinders but has no "wow-factor". It's not a design which attracts consumers just because of it's looks.
Quality
Scatola del Tempo watchwinders are known because of their good quality. We tested this watchwinder for 3 weeks. The first week there was no sound, but in the second week the watchwinder started to make more sound. The third week the sound was stabile but you could hear the watchwinder winding at 20cm distance from the watchwinder. We expected a better result from the motor Scatola del Tempo uses. Maybe it's because the watchwinder construction which makes sounds resonate inside the watchwinder.
A big difference with a brand as Swiss Kubik is that the Scatola del Tempo Rotor One uses two big LR-20 alkaline batteries. This makes the watchwinder quite heavy related to it's design and not very suitable to travel with. Swiss Kubik uses AA batteries which are smaller (and therefore more eco-friendly).
Maybe it's a bit strange but when we lift the watchwinder a strange sound appears, we think it's a spiral spring inside (for the batteries?) or the gearing. It's not disturbing but details make or break a watchwinder in this price segment.
The watchwinder does wind up all automatic watches (Tag Heuer Carrera, Omega Seamaster and Certina Valgranges) we tried without any problem.
Finishing
The finishing of the Scatola del Tempo Rotor One HDG is of a good level. The materials and details are well choosen. There is nothing bad to tell about the design, finishing or materials used. But we expected a high level of these elements, as Scatola del Tempo places itself among the famous watchwinder brands.
Price level
The Scatola del Tempo Rotor One HDG is available for +- 570 Euro = 750 USD. The watchwinder is presented in a nice box (ours had little stains) and comes with a serial number and international manual. Thereby is a little booklet with other Scatola del Tempo products.
The watchwinder comes with 2 years warranty. Because the motor is from Maxon you may expect a much longer lifetime. In fact Scatola del Tempo is a mix between Italian craftmanship and Swiss technology.
Is it a fair price? In this segment it's more about , brand loyalty, marketing and image than being better than other brands, as they all use the same technology (Maxon motors) and the finishing is of a good level.
Conclusion
A watchwinder from a brand which claims they make high end watchwinders must be perfect. And that's exactly what this Scatola del Tempo Rotor One HDG isn't……It's a sober watchwinder with lack of functions and a plastic cover. Okay, it has a Maxon motor, but does this justify the 570 Euro? No, in our opinion you pay a lot of money for a very simple watchwinder with a good motor. You pay for the brand name, not for high end quality and handy functions to use winding your automatic watch.
When we pay 570 Euro for a single watchwinder we expect a silent motor, nice functions (as adjustable TPD, sleeping mode, power winding, inside LED light etc etc), brillant finishing and good solid materials. Scatola del Tempo offers good finishing and nice materials, but did forget the rest.
In our opinion Scatola del Tempo isn't the best innovating watchwinder brand. They believe in their traditional view but forget to improve to meet the current standards other brands offer, for less money.