Spin-R single watchwinder - attractive choice!

Spin-R watchwinders from Hong Kong started in 2010 producing watchwinders with a modern design. The Spin-R watchwinders are developed with energy saving Japanese motors and a rechargable lithium battery inside. This makes the watchwinders easy to use in a bedroom, office or inside a safe.
In the US and Asia this brand from Hong Kong is quite known. In the EU there are not many official dealers but Spin-R informed us their number of dealers is growing worldwide. Soon Spin-R will present a complete new watchwinder model which is app-controlled. This means that the watchwinder can be controlled by any smart-phone, which makes it really easy to use. Therefore we decided to test the current "single" watchwinder and compare it later with the new "app-controlled" watchwinder.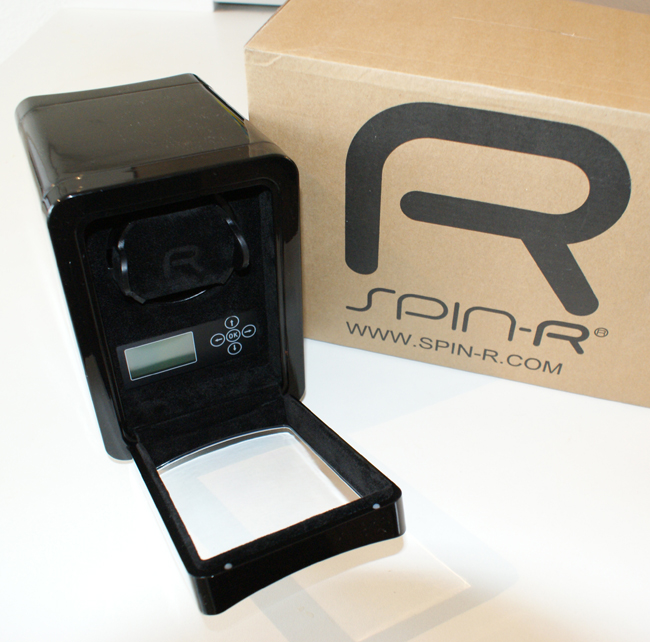 Design
The Spin-R single watchwinder does have a great design! It's looks fresh and modern and is light because it's made of plastic. We will speak later about this aspect. The design of the Spin-R watchwinder results in nice curves and a compact system. The door opens from top to bottom and is easy to use. When the door is open the watchwinder is still stabile.
We like the design as it's different from other (classical) watchwinders. It gives the Spin-R watchwinders a trendy look. It's also nice that the Spin-R watchwinders are available in several colors; black, white, blue, red, orange, green, pink and yellow.
Another point we like is that the watchwinder is small and compact which makes it easy to fit into any interior. It's not a big watchwinder which immediately attracts the eye when entering a room. Therefore the watchwinders are suitable to put into a cabinet, on a bedroom table or on the office desk. They also fit in a regular safe.
The modern looks are combined with a modern LCD display to set all settings for the automatic watch. It's a good LCD display which lights up and is easy to use.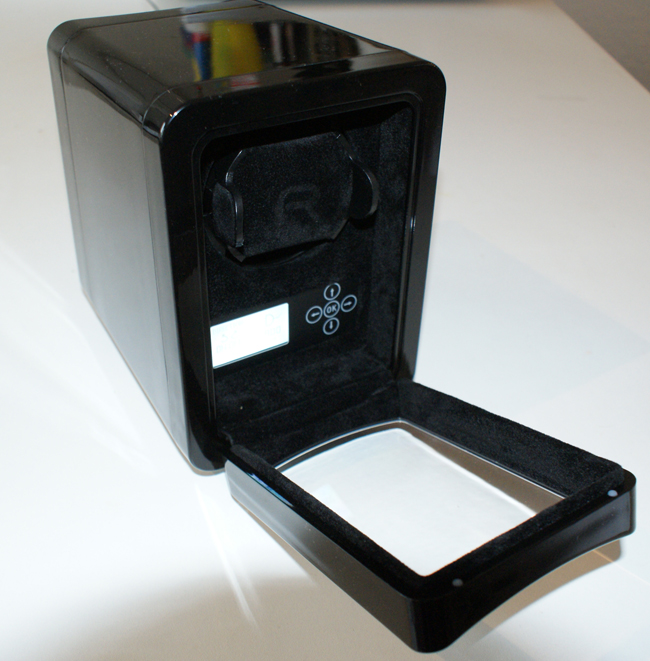 Originality
We did enjoy testing the Spin-R watchwinder as it's completely different than other watchwinders we tested before. It's looking great and the design makes us happy….Spin-R did a great job producing this watchwinder in several colors. It makes them more attractive for younger people who want to have something different than others. Thereby you can select the specific color which matches your interior.
The fact that the Spin-R single watchwinder has a eco-friendly battery makes it interesting. Of course there is also an adapter included in the package. The design, eco-friendly battery and many colors to choose from makes this watchwinder original and completely different than the high-end watchwinder producers.
Quality
We tested the Spin-R single watchwinder 3 weeks and it's still silent and running smoothly as when we first started it. The Japanese motors, used by many other brands, are proven reliable and durable for a longer period. The motors and the gearing are the most important parts inside the watchwinder and these are working good. The LCD display is a joy to use as it's accurate and easy to work with.
Like most modern watchwinders you can select directions as clockwise, counter clockwise and alternate. Thereby you can select the TPD (turns per day) to set the watchwinder exactly as you prefer. Therefore the Spin-R single watchwinders are suitable for any automatic watch.
We only have one remark about the plastic casing; it's not bad but also not very good. The plastic is a bit flexible (no thick plastic casing) which makes it feel a little bit cheap. But is this a problem? No it isn't because the price/quality ratio is perfect.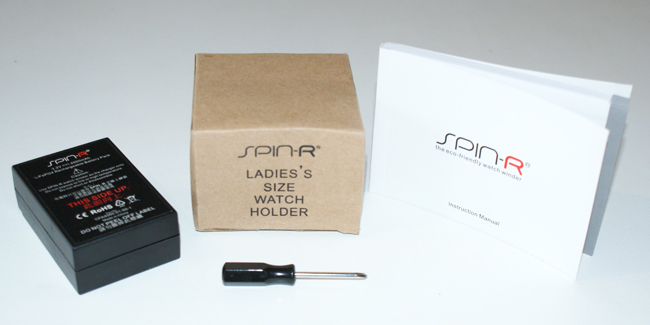 Finishing
In our opinion this watchwinder is a handy and compact watchwinder with a good finishing. You can see the factory did a good job as the watchwinder has no really weak points. We also want to point out the packaging which is very complete; extra watch holder (smaller watches), eco-friendly battery, screw drivers (to install the battery), manual and a warranty card. The watchwinder is also packed very well which makes it suitable to ship worldwide.
Conclusion
In general the Spin-R single watchwinder has a great price/quality ratio. The watchwinder has all functions you may expect from a watchwinder, and can wind any automatic watch. The prices start at 219.00 USD which is a good price for a modern watchwinder with good specs like a Japanese motor, LCD display and battery. All functions do operate smoothly and the design is a big plus. If you're looking for a watchwinder which is different than others then we would certainly recommend a Spin-R watchwinder.