Baselworld 2017 - watch winder brands
Two weeks ago we spent several days on Baselworld, the biggest watch fair of the world. And of course several watch winder brands did exhibit and welcomed us for a conversation and presentation of their new watch winders. Thereby we did visit some smaller brands and looked around to see what's new.
We are happy to see that Buben & Zörweg introduced a few new watch winders and also introduced some new models with a lower retail price. As there is more competition and not all consumers have the money to buy the real expensive watch winders it's a good step from Buben & Zörweg.
Bernard Favre from Switzerland did suprise us with several new models. Next to the famous Planet watch winders they now present bigger cabinets and a new compact single watch winder. All made of the finest materials and with a perfect finish.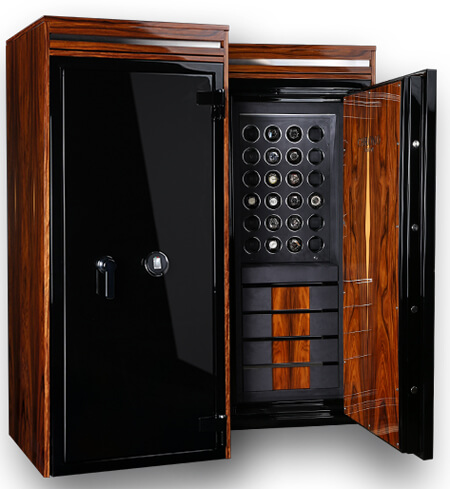 In Hall 2.0 we found Chronovision. This German brand did introduce 2 years ago the Chronovision One single watch winder which is available in many different styles and materials. Now Chronovision presents bigger cabinets to wind multiple automatic watches. They even sold a big cabinet to Christiano Ronaldo, the Real Madrid soccer player.
The Wolf design watch winders were not really different than other years. Their focus is on leather material and different colours. We didn't see many innovations regarding technique or design. Wolf lost distributors and dealers in Europe, and we hope Baselworld was a success for them, so we can see Wolf more on the European market as well.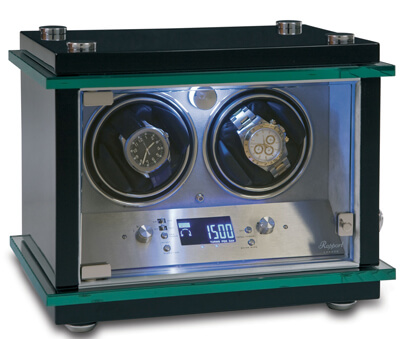 We experienced the same with Rapport watch winder from the UK. The collection isn't different from the last years we visited the Rapport booth. They have a beautiful big booth on a nice spot, but the collections didn't surprise us. Nevertheless Rapport is doing a good job in offering quite classical watch winders to the consumer who prefers a more classic style.