Benson Black Series watch winders still going strong
Watch winders are available from different brands, in different styles, capacities and designs. A good watch winder is reliable, almost silent and winds all types of automatic watches. A good example of a brand which combines all elements you need is Benson. This brand from The Netherlands has grown seriously the last years with a network of more than 250 positions of sales. Mostly high end jewellers with a passion for automatic watches, for example from IWC, Breguet, Panarai, Omega, Breitling, Rolex etc etc. Owners of these watches often use a watch winder to wind their watch collection. It's not only a handy accessory, it also looks very good and ensures the durablity of the watches.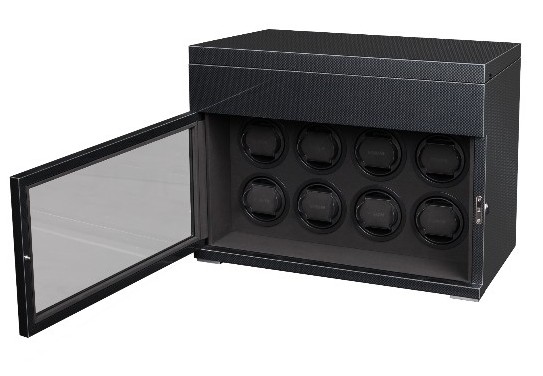 The most important and popular series from Benson is the Black Series. This series of watch winders can be described as modern, high end and affordable. This great combination explains the success of Benson worldwide. The Benson Black Series watch winders are suitable to wind any automatic watch, regardless brand or model. Each watch winder offers the function to set the exact rotor to wind an individual watch. You can choose the winding direction and number of turns per day (TPD). Also you can select the power winding modus or turn on/off the LED light. Watching the watches rotate in this light is a beautiful sight.
Compared to other watch winder brands the Benson Black Series watch winders offer an unique price/quality ratio. The reliable technique, adjustable watch holders and extra storage compartment are important extra's which make the Benson watch winders so appreciated by watch collectors. As Benson also produces for some Swiss and German watch brands they exactly know what an automatic watch needs to wind if safely. A new aspect of Benson is that they also offer the watch winder modules which can be built-in a safe, cabinet or drawer. This allows the watch collector to create its own design with the Benson watch winders.
When you say Benson Black Series you say quality. Quality is next to functionality the most important aspect at Benson. All Benson Black Series watch winders come with a 2 year warranty. Thereby there are all over the world distributors and repair centres to perform after sales.
Are you looking for a high end watch winder which winds your automatic watches? Then you certainly must take a look at the Benson watch winders and their Black Series in particular. You won't be disappointed!