Buben & Zorweg at the "Salon belles montres" in Paris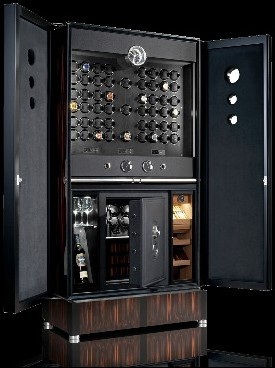 We all know that
Buben & Zorweg
is one of the leading producers of watchwinders. Their products are unique and produced by well trained craftsmen.
Their credo is: Buben & Zorweg delights watch lovers with unique masterpieces of craftsmanship. The symbiosis between compelling innovation and exquisite design characterises and defines their exclusive watchwinders.
Buben & Zorweg in Paris
The seventh "Salon Belles Montres" held at the Carrousel du Louvre in Paris at the end of November 2013 once again attracted passionate lovers of fine watches from around the world. Buben & Zorweg was represented with luxurious watchwinder masterpieces.
Grand Collector XL
Passionate watch collectors have a special trait: they do not want to be limited by superficial matters. Their passion grows as time goes on. The Grand Collection XL offers optimal storage for an endless range of elegant watches, keeping them safe in a stylish, understated design with clean, classic lines. The most valuable watches can be kept secure in a German-made high-security safe.