Buben & Zorweg opens InShop boutique in Hong Kong
The recent, exclusive opening of the Buben & Zorweg InShop boutique at Lane Crawford, Harbour City, the top luxury department store in Asia and one of the busiest hotspots for luxury shopping worldwide, saw not only champagne flowing but mouths watering when Mr. Zorweg, one of the CEO's of the company unveiled just some of Buben & Zorweg's masterpieces. At the grand opening, the German luxury safe creator revealed such treasures as the Grande Infinity – not only a fine timepiece in its own right but an inbuilt safe and watch winder. The Mirage and the Orion safe prove that a safe does not necessarily have to look like a strongbox.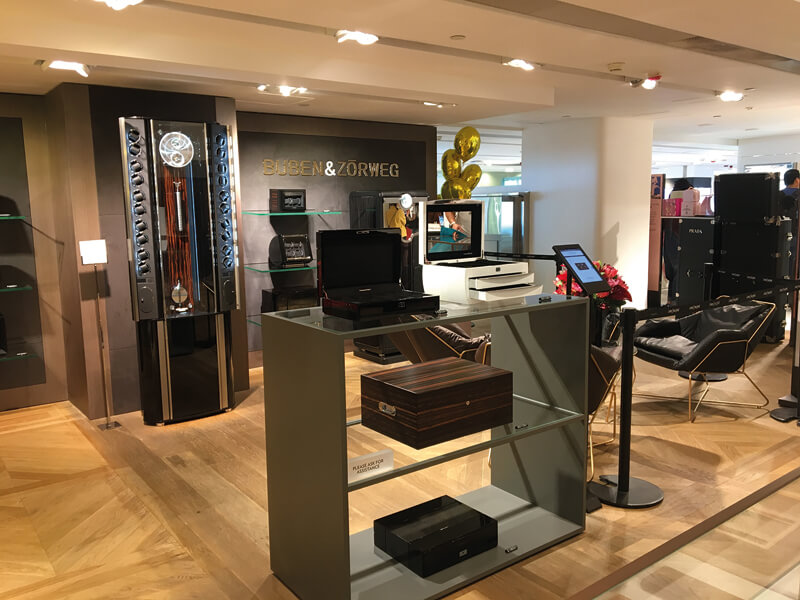 Mr. Zorweg, proudly showed his creations one by one and explained the brand DNA, and reasons why customers from all over the world purchase the state of the art safes. The selected VIP customers appreciated the German engineering and craftsmanship at Buben & Zorweg.
Buben & Zorweg have been working with Lane Crawford for over a decade and so the opening of an Instore boutique is a natural process not only for the store but also for Harbour City at Tsim Sha Tsui, a vast retail destination featuring more than 700 stores and an array of flagship stores concentrated at Canton Road. Here there's something for everyone, from international designer brands to fine jewellery and watches and chic boutiques and now thanks to Buben & Zorweg a safe and luxurious place to savour those treasures.
Mr. Zorweg said, "The uniqueness of our work is very important to Lane Crawford therefore the Grande Infinity is one of Buben & Zorweg most important masterpieces for them. This fine timepiece is so much more than a clock. It is innovative in design and technology and may I say perfection!"