Chronovision watchwinders: a sneak preview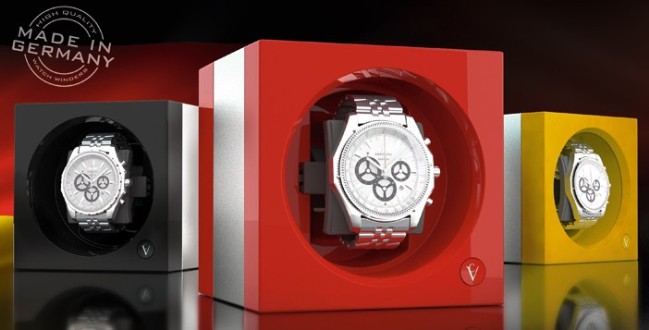 At Baselworld the new watchwinder brand Chronovision will be launched and presented to the public. This new brand is 100% made in Germany and offers high end watchwinders with unique technology and quality. Chronovision watchwinders are a perfect mix between supreme technology and exquisite materials.The first series of Chronovision is the "One".
We spoke with the CEO of Chronovision Mr. J. Heisse who told us about the background and technical specifications of the watchwinders. With several patents and trademarks Chronovision will attack the market position of brands as Swiss Kubik and Rapport London.
The unique system of the Chronovision watchwinders can communicate with other modules of the One series.The rotation direction and turns per day (TPD) can be set by USB and bluetooth via PC, MAC or smartphone. Extra options as a "sleeping mode" and "speed winding". The German motor and gearing assure a high quality technique which makes sure the watchwinder is completely silent, even when you wind heavy automatic watches.
The battery life will be around 2 years which is really long. At this moment only Swiss Kubik can meet this period. With three years warranty a Chronovision watchwinder is a good and safe choice for the automatic watch lover.
Retail prices are not available yet. After Baselworld the official retail prices will be communicated by this blog.