Döttling Quick n Safe
You know the feeling: you come home and just want to securely store your money, valuable watch, car key, or the jewelry you are wearing in a simple way. A typical case for the latest product of the luxury safe manufactory Döttling based in Sindelfingen – the Quick 'n' Safe. It is extremely compact and particularly easy to use. But even if the Quick 'n' Safe does credit to its name, the Swabian safe specialists have not shied away from spending time on its development. This also applies to the manufacturing. This makes the new addition to the lineup a real Döttling in terms of quality and design – through and through.
Fast and secure – this also applies to our new Quick 'n' Safe when it comes to installation in the existing decor: thanks to its compact size, it can be easily integrated into cabinets, chests, desks, or other pieces of furniture.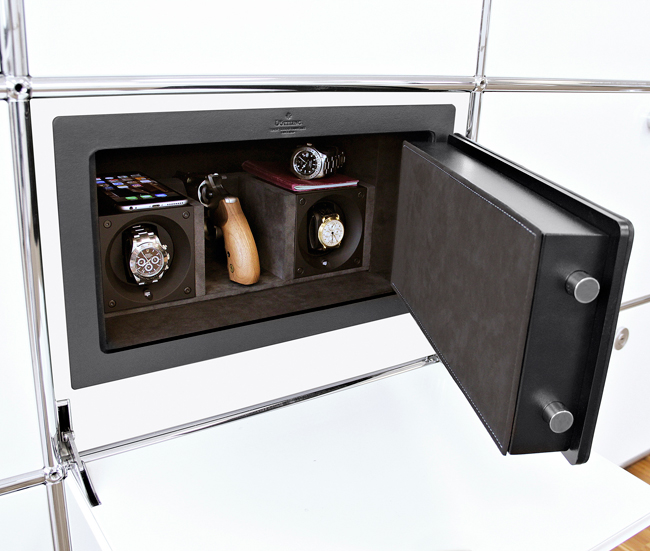 The body of the Quick 'n' Safe is covered in the finest calfskin. As for the doors, calfskin has also been used – here it is quilted – with up to 57 different colors available for the leather and seams. Either harmoniously color-coordinated combinations or exciting contrast variations can be realized. The electronic locking system is centrally positioned on the surface of the door and can be locked and opened in next to no time using a four-digit code. High-quality alcantara has been used inside the Quick 'n' Safe. There is enough room here for up to six watch winders. Alternatively, weapons can also be safely stored. Upon request, they can also integrate a USB port for charging cell phones or laptops.
The new Quick 'n' Safe is available at a starting price of EUR 5,000 (net).