Interview with Mr. Von Ribbentrop (CEO - Stockinger)
For more inside news we like to interview the people behind a watchwinder brand. To learn more about their company, philosophy and view on the future. Today we present an interview with Mr. Dominik von Ribbentrop, the CEO of the famous brand Stockinger. Stockinger produces high end safes with built-in watchwinders and is a key player on the market.
Could you please introduce yourself and function at Stockinger?
It is a pleasure speaking to you. My Name is Dominik von Ribbentrop and I'm CEO of Stockinger. The manufacture of Stockinger produces custom-made unique objects, tailored specifically to the clients' wishes and fantasies. We only use proven technology from Switzerland and Germany and employ highly experienced craftsmen, engineers, technicians and artists so that they can combine maximum security with elegant aesthetics. A Stockinger Safe provides not only optimum security, but also unrestricted enjoyment of your objects of beauty and value.
The most interesting thing about a Stockinger safe is the fact that they equip their safes with state-of-the-art watchwinder elements. Each winder can be programmed individually according each watches requirements. With a Stockinger watch safe you can make sure that your watch collection is kept totally safe because they meet the highest demands of the VDS in such a way that they are entitled to bear the extremely high VDS III (IV) security rating, based on EN 1143-1. This might explain why in more than a quarter of a century of existence, not a single Stockinger safe has been forcibly entered.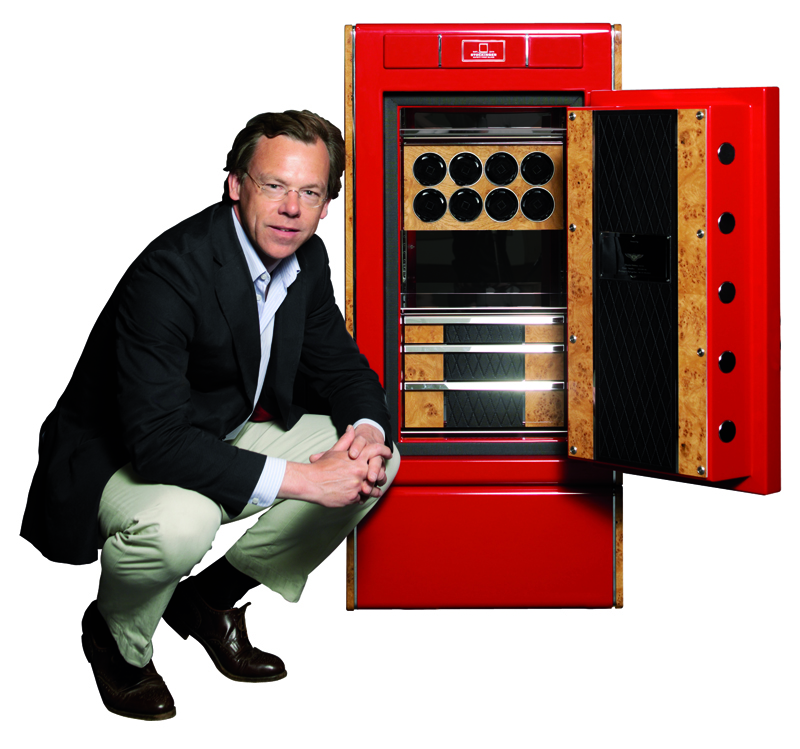 How would you describe the Stockinger company?
Stockinger's passion is to enrich the grey world of bulky safes with a high class product that is as secure as a bank, as precise as a master time piece, and as beautiful as a piece of the finest art. For our Bespoke Line, we offer a selection of models in different sizes, levels of security, and options to our clients. We only use the best materials and consistently meet the challenge of our customers' most extravagant wishes with discretion and the very best in professional service.
How would you describe the Stockinger watchwinders?
We offer products for customers with special needs. Our customers highly appreciate that our safes keep their watches safe and wind at the same time. For Stockinger the watchwinder cabinets were the next logical step. Not everyone wants to hide his collection. Watch aficionados have invested a lot of money in their collection of beautiful timepieces and therefore want to enjoy their collection by displaying and looking at it. Our watchwinder cabinets fulfill this kind of purpose just perfect.
Protected by the German Patent and Trademark office, the Stockinger & Beluwo watchwinder technology creates the most precise watch winders. With our German technology for the first time ever, the data for any self-winding movement can be loaded into the memory of the watch winder thanks to the intelligent microprocessor control, resulting in a never-seen-before gentle and optimum winding. Each wristwatch will be kept and moved according to its own specific requirements as the watch specific optimal winding data will be downloaded onto the winder from a database that contains data of more than 8,000 different wristwatches. The technology implies a 16-hour active phase and an 8-hour resting phase. That way there is a perfect simulation of wearing a watch in the daily routine. Within the 16 hours of active phase the number of rotations is evenly spread out and at the end of each winding interval the watches will stop automatically at the 12 o ´clock position.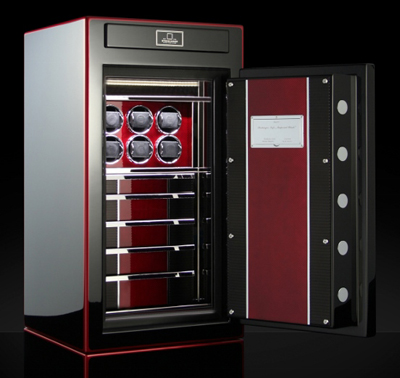 Can you tell us more about the production process?
Stockinger Safety First Class GmbH has been producing unique safes and security systems in Neuried near Munich for over 30 years. Quality control, first-class service, and absolute discretion are held in the utmost regard at Stockinger. The most convincing security fact: the safes are produced using the best possible plating offered anywhere in the world and project a striking, beautiful individuality in their appearance. This also applies to the inside of each safe, as well as the user-friendly digital automatic
Stocktronic accessing system, which offers the absolute freedom of enjoying valuables conveniently at any time.
Since a few months we now also offer beautiful watchwinder cabinets using the same winder technology as known from the safes. The elegant design is the perfect addition to the beauty of a hand-made timepiece and you will be delighted by the way it looks in combination every day. The technology is one of a kind based on a database with over 8.000 watches. So these cabinets know how to take care of each specific watch you might own.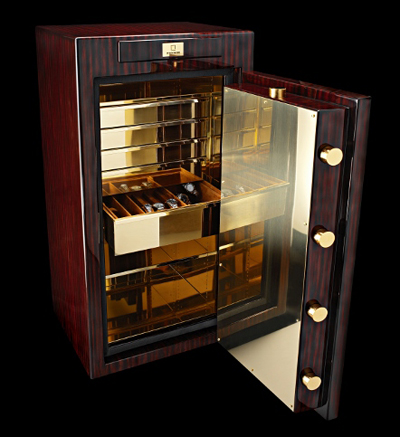 What are the main markets for Stockinger? And can you tell us more about the business structure?
So far we have always dealt directly with the end customer. This way we will make sure that clients will receive an excellent service and advice. We are there for our clients every day and so we can provide them with advice and assistance. We also work with a limited number of highly competent dealers in selected places worldwide. We are also interested in cooperations with interior designs and architects.
In which way will Stockinger develop the coming years? What will be the focus?
We are always in a process of innovations, our personal approach is to meet any customer requirements and to exceed their quality expectation. What units our customers around the world and the Stockinger team is passion and drive to excellence. Passion for creativity and discovery, passion for craftsmanship and quality, passion for design and uniqueness.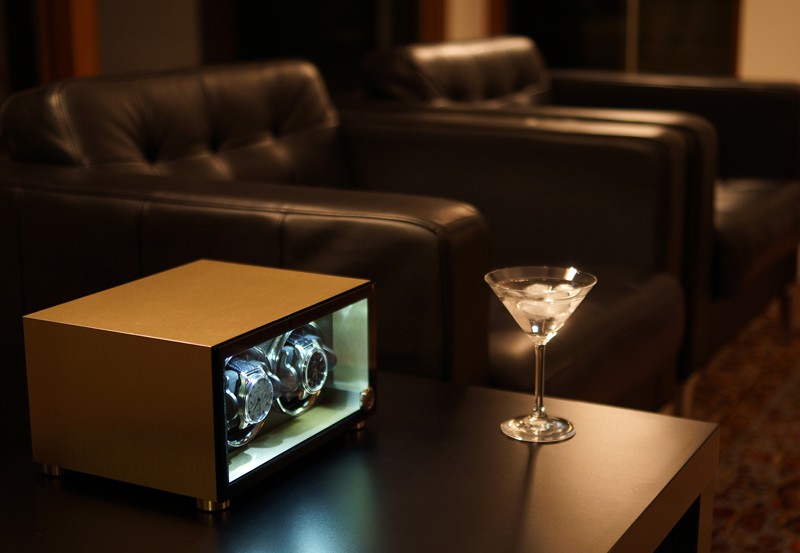 If you would compare Stockinger with another brand, which brand is this and why?
Many people can build a safe or a watchwinder. But for us at Stockinger, where their work ends, ours really begins. Every Stockinger safe has a security concept, which is the result of lengthy consideration, coupled with experience and insights. To treasure your high class watches, our watch winders both value and celebrate them on an elegant, high quality basis. For years, passionate watch collectors from all over the world have loved our watch winding solutions and innovations. There is no "either – or decision" we want the perfect solution.
What new projects can we expect from Stockinger in the nearby future?
Our personal approach is to offer both bespoke solutions for safes and for watchwinders. We want to expend our product range. Since recently we are able to customize watchwinder cabinets. In addition to our standard watchwinders with 2, 6 or 10 winders we also offer customized solutions such as cabinets with 4 or more watchwinders. Also the colour of the cabinets can be customized. Therefore, your watches are not only stored in the most appropriate way, but also presented in the most elegant way.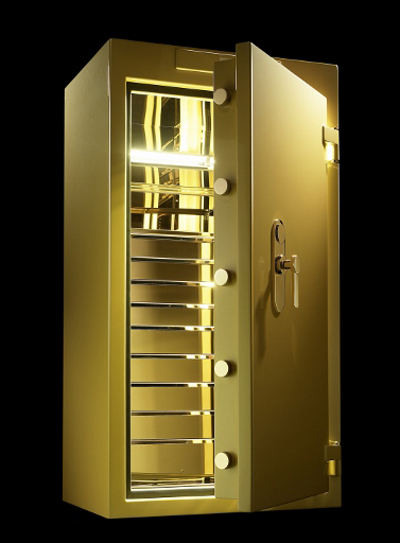 Why should we buy a Stockinger watchwinder?
Due to our long experience with state-of-the-art watchwinders included in our safes, Stockinger now offers luxury watchwinder cabinets. To treasure your high class watches, our watch winders both value and celebrate them on an elegant, high quality basis. Our watchwinder technology offers an integrated database with the specifications of over 8.600 watch models to program each winder individually – just by using your smartphone or tablet pc. Programming is quickly done! But even if you don't want to program each winder specifically, you can use a standard program just to keep your watches running. That is perfect for owners of bigger watch collections.
The technology is proved by more than 15 applications at the German Patent and Trademark Office. With our partner Beluwo we work continuously to improve our products in order to offer the best watch winding technology – made in Germany.