Interview with Mr. Zörweg (co-founder) from Buben &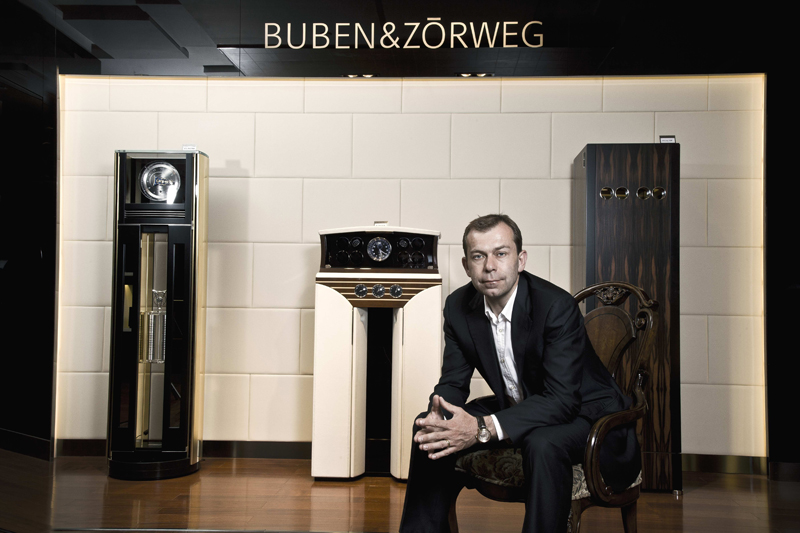 We are always keen to meet and interview people who are working for watchwinder brands, to learn more about the brand, background and products. This time we were lucky that Mr. Christian Zörweg found time to tell us about Buben & Zörweg, the leader and trendsetter in the market of high end watchwinders.
Could you please introduce yourself and function at Buben & Zörweg?
My name is Christian Zörweg, I am the co-founder and co-president of Buben & Zörweg.
I formerly worked as a Gemstone-dealer during my university days at Karl Franzens University in Graz, Austria. I subsequently founded Buben & Zörweg with my childhood friend, Harald Buben.
How would you describe the Buben & Zörweg company?
"Buben & Zörweg delights lovers of fine timepieces with unique masterpieces of craftsmanship. These exclusive objects of time are characterised by a symbiosis of ground-breaking innovation and elegant design. Selected materials and perfect craftsmanship combine to fulfil and exceed customer expectations."
That is the credo of luxury brand Buben & Zörweg. Since 1995, Buben & Zörweg's activities have focused on delighting customers with masterpieces of German craftsmanship and testing the boundaries of technology and handicraft. The first milestone after the company was founded in 1995 was the introduction of the Time Mover®; consistent pioneering work soon made Buben & Zörweg the market leader in this segment.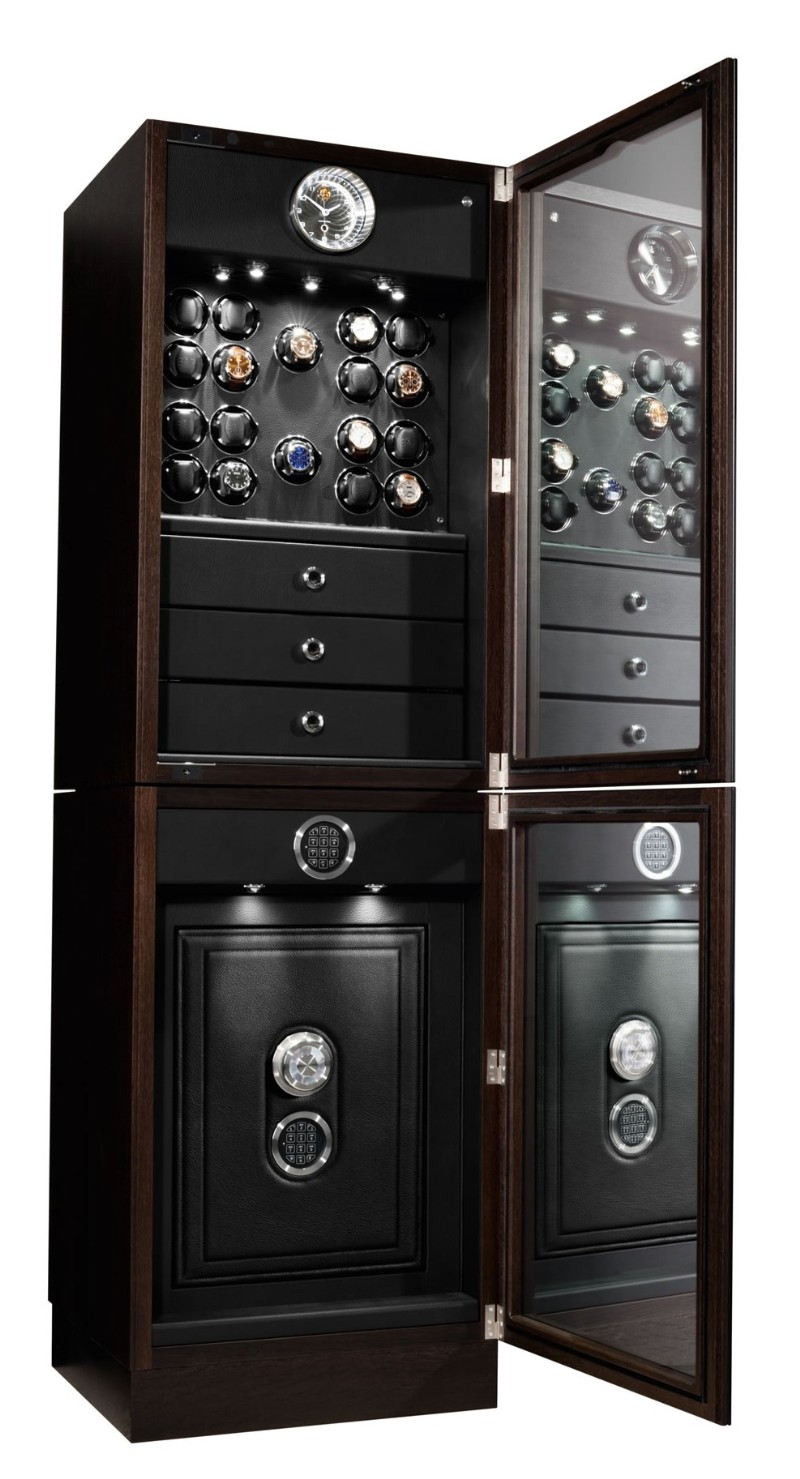 How would you describe the Buben & Zörweg watchwinders?
Certainly we at Buben & Zörweg share the drive to break new grounds and love to develop objects that nobody has seen before. I am responsible for the design and I work together with a team of designers. At Buben & Zörweg we want to link the contemporary with the classic and our objects should be a eye-catcher in any environment. Every product is a unique piece of art itself – it's a design object which you should present - f.e. in your living room, all our products are made out of the best materials: Italian nappa leather with croco imprint, wood like Makassar, ebony grigio or walnut purl wood, mother of pearl, brushed stainless steel, two way mirror spy glass ...
Can you tell us more about the production proces?
The masterpieces are 100% designed and made in Germany in our manufactory, which is located in the heart of Germany's engineering region near Stuttgart. About 20 engineers, watchmakers and assemblers are considered a part of the quality assurance system that characterises each individual masterpiece. Wearing white gloves and jackets and countersigning every stage of a stringent quality control procedure is a matter of course at the Buben & Zörweg manufacture.
The watchwinder technology is created together with our partner company ELMA.
It all starts with the beauty that nature has to offer. Selecting raw material. The pattern of the rare macassar ebony which gained it's popularity in the art deco area and will live on in emotional modern Art deco design DNA. It comes naturally that Buben & Zörweg sources and selects worldwide only the very finest veneers.
For the housing we use selected woods such as macassar, high quality carbon fibre, fine leather, etc. whatever the customer desires. Our aim is to create masterpieces that address all senses and fathoms the dimensions of exceptional taste. Exquisite materials, innovative technology, optimum security solutions and fascinating design hand-crafted by masters of their art become solitary objects of desire for people with a sense for the exclusive aesthetics of perfection.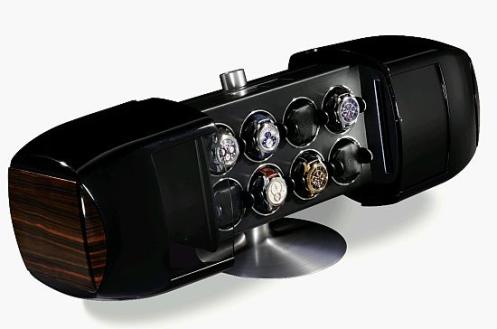 What are the main markets for Buben & Zörweg? And can you tell us more about the business structure; do you have distributors, dealers or do you sell directly to consumers?
Asia, Russia, Middle East, but also Germany, Switzerland and England are important markets.
With 7 standalone boutiques and over 25 in-shop boutiques, the company is present in over 100 countries. We have a strong distributor network and are available from carefully selected jewellers worldwide.
With internet upcoming, do you consider to sell online by strong internet dealers?
Our masterpieces are offered at different prices depending on the country of sale. This is due to the custom duties and import taxes, cost of transport and installation and the tax differences. Therefore we have decided to prevent the prices of our masterpieces from being published via the internet. That is why we don't consider to sell our masterpieces online.
This may be changed sometime in the future.
In what way will Buben & Zörweg develop the coming years? What will be the focus?
• We will continue to build B&Z as an international luxury brand. More B&Z Boutiques will arise to give our customer the opportunity to even better experience of the universe of B&Z
• B&Z will always be as exclusive as our customers are. We are a luxury brand for people that seek to express their individuality in our exclusive and often unique masterpieces.
• B&Z is a men's brand and we have many ideas how to enrich this (men's) world with our competences.
• Our creativity and drive for innovation is deeply implemented in the DNA of our brand and is to stay for the next 20 years and beyond….
We find it challenging to build a brand for the next 100 years that can be handed down in generations - Constantly being creative and open to new opportunities and challenges according to the natural law of change. We stand at the beginning of a long tradition which is very much about the spirit and the people that share it, work together happily and building the house of Buben & Zorweg in an ever changing world….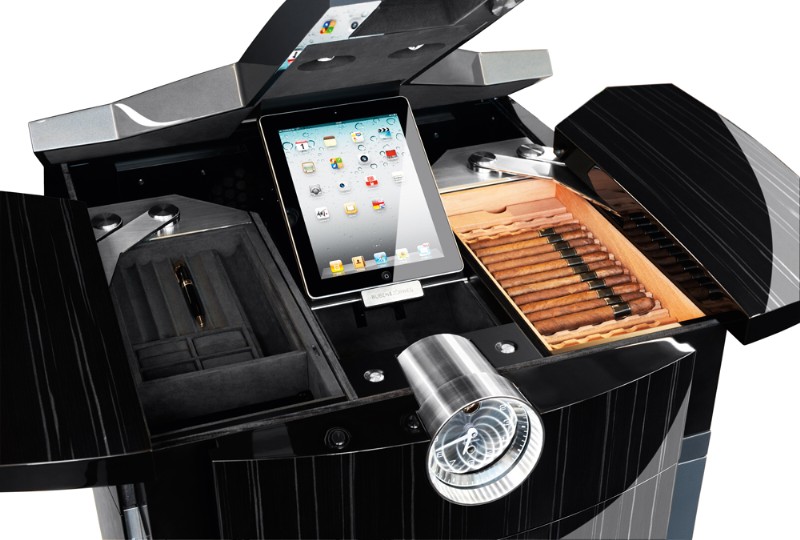 What new projects can we expect soon?
We are taking another innovative step in the world of elitist interiors in the form of the Bespoke Line: our customers can utilise a fascinating range of options to exert their influence on the appearance of their masterpieces. That is the advantage of luxurious objects perfectly manufactured by hand – incorporating customised changes is no problem at all. There will be a range of 20 carefully selected leather and lacquer colours (10 each) and the customer can choose what he likes most.
Why should we buy a Buben & Zörweg watchwinder?
It's a piece of art, made out of the best materials, made by the best craftsmen in Germany. The design is unique, but very timeless – it's something you will love in 20 or 30 years as much as you do now. It's not a luxury product, that many people own, it's a well kept secret and therefore even more special.