Modalo watchwinders, value for money?
You can buy them everywhere, Modalo watchwinders. The company BEIMA International is based in Germany and was founded in 2006. BEIMA is the owner of the Modalo brand, which was launched in 2007.
Modalo has a worldwide distribution network and is sold in more than 20 countries. A Modalo dealer is never far away.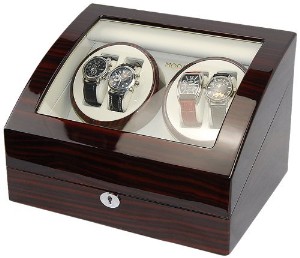 When we take a look at the Modalo website it seems a well structured website with a lot of graphics. The watchwinders are presented well with good photos and clear information.
The Modalo watchwinders are made in China and therefore quite reasonable priced. Modalo gives two ears of warranty on their products.
On the internet the opinions about Modalo seems to be 50/50. Many owners of a Modalo watchwinder do like the luxury design and affordable price. On the other hand we see quite some negative experiences from owners who have troubles with the motors and complain about the increasing sound. Nevertheless it's hard to judge a brand on these experiences.
The experiences are mostly from 1-2 years ago. We are sure Modalo improved it's quality like most watchwinder brands do. The most important factor is using high quality motors, as most problems with a watchwinder are motor related.
We asked some official Modalo dealers and they are quite happy with the brand. Though, some complained about the fact that Modalo is sold on Ebay. It won't improve the exclusivity and brand reputation of Modalo. It's the reason many watchwinder brands don't allow their official dealers to sell on Ebay.
In the lower price class Modalo could be a good watchwinder to start with. If you're looking for a bit more quality and reliability you have to spend more money. We will follow Modalo watchwinders and test some of their products in the nearby future.