New Smart-Tech watchwinders from Benson
Some watchwinder brands do have a little extra which makes it very interesting to follow them. One of these brands is Benson from the Netherlands. This Dutch brand produces watchwinders with an attractive price/quality ratio. Last year we already tested one of their Smart-Tech watchwinders and wrote a review about it. Therefore we are glad to see Benson did launch some new models in a very attractive price range.
Benson Smart-Tech 3.14.DB and 6.14.DB watchwinders
The Smart-Tech series consist the top range watchwinders from Benson. These watchwinders do have all kinds of extras like touchscreen display, remote control and a start/stop system. The new Benson Smart-Tech 3.14.DB and 6.14.DB do have these specs too, but have improved motors and gearing. Thereby the design did change a bit and these new models are only available in dark brown paint.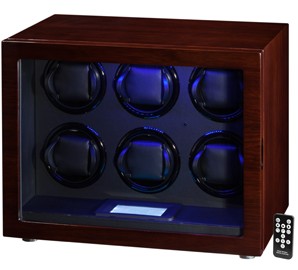 Instead of the current Smart-Tech watchwinders these new models do have their touchscreen inside the watchwinder. We must say that the dark brown paint is a great combination with the stainless steel feet. Also the glass door gives a perfect sight on the automatic watches turning around inside the watchwinder.
It seems Benson is a brand which improves yearly and produces really good watchwinders for an interesting price, compared to other brands with the same or less specs. We already contacted Benson and asked if they can send a watchwinder for a complete review. Then we will write a new article about the new Benson Smart-Tech 3.14.DB or 6.14.DB and discuss the differences between the current models and these new models.
If you're interested in the Benson watchwinders, take a look at their official website.