Stockinger watchwinder cabinets, made in Germany
Watch collectors know that an automatic watch will work at its best when it is kept permanently in motion. As a watch collector you also know that you can unfortunately only wear one watch at a time, so the movements of all your other beloved watches might stop after 36 to 42 hours.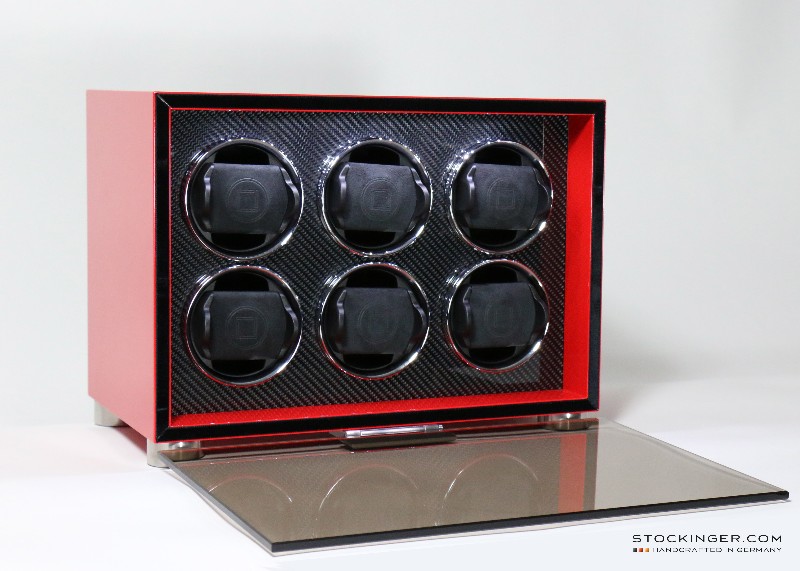 Resetting might be quickly done, but in the event of complications or with perpetual calendars in particular, resetting can often be a very elaborate process. Lubricants tend to solidify and that might cause the need to send your watch to repair. Watchwinders solve this problem by keeping your watches in motion and therefore keep the movement running. Stockinger now offers luxury watchwinder cabinets. These high-class watchwinder cabinets are available in three versions – providing 2, 6 or 10 winders. Protected by the German Patent and Trademark office, the Stockinger & Beluwo watchwinder technology creates the most precise watchwinders.
With German technology for the first time ever, the data for any self-winding movement can be loaded into the memory of the watchwinder thanks to the intelligent microprocessor control, resulting in a gentle and optimum winding. Each wristwatch will be kept and moved according to its own specific requirements as the watch specific optimal winding data will be downloaded onto the winder from a database that contains data of more than 11,000 different wristwatches. The technology implies a 16-hour active phase and an 8-hour resting phase. That way there is a perfect simulation of wearing a watch in the daily routine. Within the 16 hours of active phase the number of rotations is evenly spread out and at the end of each winding interval the watches will stop automatically at the 12 o´clock position.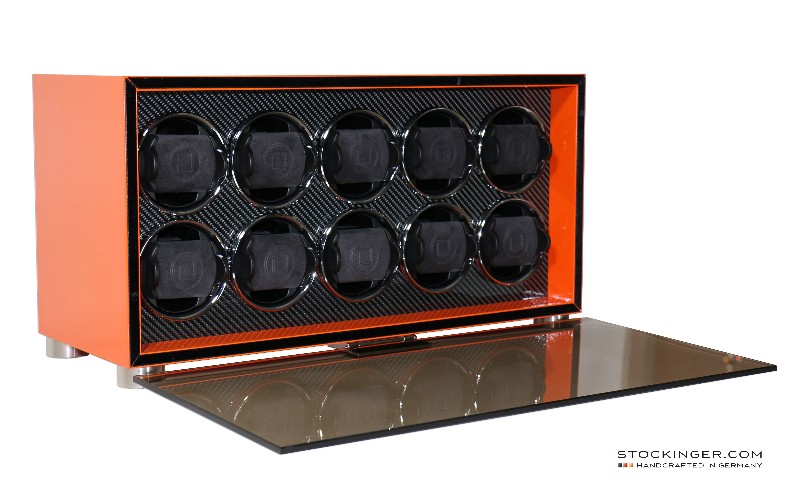 The by Stockinger patented process always keeps the watch in the optimum range of the mainspring tension and thus achieves the best transmission values. Furthermore, the movement will never be strained too much. During the 8 hours resting phase the tension on the mainspring will be eased. The distribution of the two different phases can be programmed by oneself and individually adjusted to the rhythm of your daily life.
Intelligent technology - Made in Germany by Stockinger!