The new Benson Black Series Tower watch winder

Early 2016 Benson launched its Black Series watch winders and soon these watch winders became incredibely popular. With distributors in the USA, Canada, Russia, Hong Kong, The Netherlands, Belgium and Israel this brand is growing fast. As mentioned at this blog before Benson was working on a new product, the Black Series Tower.
The Benson Black Series Tower will be available at the end of March (directly after Baselworld) and has some very interesting specs. First of all it's very nice to see a different type of watch winder than then regular models available on the market. A tower is not only a watch winder, but also a nice piece of furniture inside a living room, office or bedroom.
The tower watch winder has the same technical system as the regular Black Series; a touchscreen, adjustable TPD, led light, power winding and individual rotor selection. The advantage of the tower is the design and extra storage for other watches or jewellery. Both compartments can be locked by a key and through the glass you can see the watches rotating.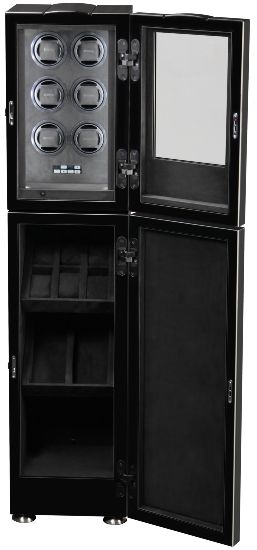 Details are very important and therefore Benson developed the hinges and metal feet so that they can be adjusted. Safety is important as well, and therefore the both compartments can be fixed to each other (with two big screws) and as a whole to a wall (with one big screw).
The Benson Black Series Towers are available for 6, 8 and 12 watches, in colors as black, carbon fibre, macassar and white. We like especially the white version, because it has a great contrast with the black interior. All towers are handmade and have 12 layers of paint and therefore are very special.
Now you think this will cost a lot....yes indeed, a tower watch winder is not cheap...but the Benson Black Series Tower watch winder is a lot cheaper than all competition. You can buy a tower watch winder for 6 watches from Benson for 1349,00 euro (21% VAT incl.) = 1114 euro (VAT free) = 1169 USD. And that's the best thing of all; Benson made a tower watch winder affordable for every watch lover!
These watch winders are already available at www.watchwinders.com