The quality of Paul Design watchwinders
Paul Design is a quite new brand producing watchwinders. The watchwinders are made in Asia but are in all aspects value for your money. We tested some models the last two years and every time we are positively surprised about the building quality, solid materials and clever engineering. Next to these important elements the Paul Design watchwinders do have beautiful designs.
Paul Design watchwinders quickly made name for itself resulting in several dealers worldwide. The focus is on producing more high-end watchwinder models suitable for multiple automatic watches.
Here in our office we have the Paul Design Gentlemen 4+6 (picture below) which can wind 4 automatic watches and offers extra storage for another 6 watches. The control panel works fine and allows us to set our preferences within seconds. The LED lighting ensures a beautiful sight at the rotating watches. The watchwinder itself is quite heavy, a result of decent materials and good construction.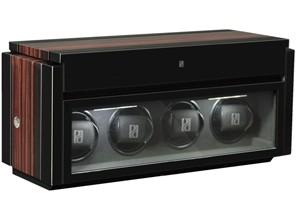 We think Paul Design is one of the promising brands which will be more successful in the nearby future. As said, they offer a lot of value for money and are ready to expand their collection with new models. Keep up the good work!