Watch winders at Baselworld 2018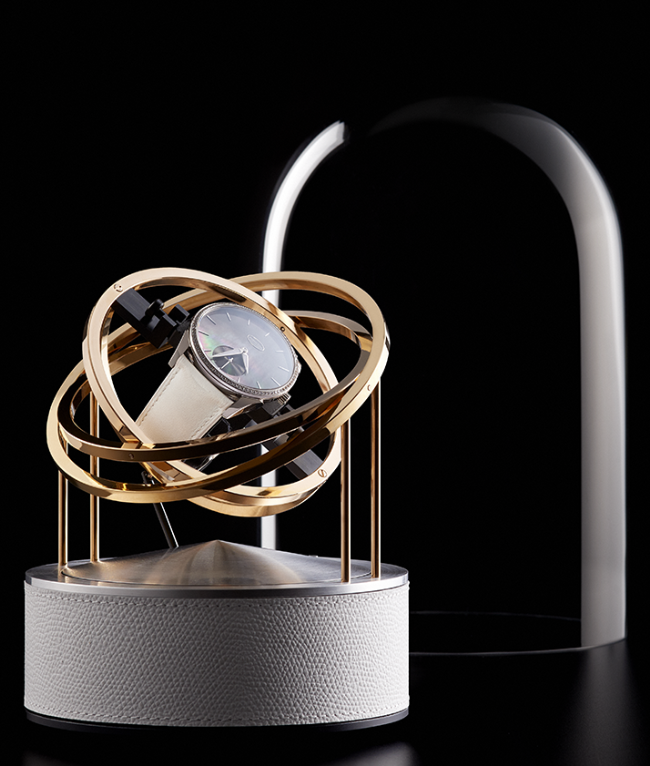 Baselworld 2018 was a good moment to visit several watch winder brands which were present during this largest watch fair in the world. We visit this fair every year to meet the people behind the brands and learn more about their innovations, ideas and vision on the world of watch winders. This year we met with the brands Bernard Favre, Heisse & Söhne, RDI, Swiss Kubik and Chronovision. These brands were the most important brands on the fair.
Bernard Favre did present us his latest ideas and prototypes. The watch winders of Bernard Favre do stand for absolute quality, design and an unique way of winding an automatic watch. The range of Planet watch winders will be extended with new colours and materials. As every year the watch winders of this Swiss brand do attract a lot of attention of the visitors of the fair. It's nice to see that mr. Bernard Favre is a very intelligent person who wants the best for his watch winders and therefore for the consumer. We are happy to see the new models coming available soon.
The Swiss based company RDI is relatively unknown but a great promise for the watch winder business. This company combines Swiss perfection with interesting designs. We met RDI outside the fair in their new head office in the south of Switzerland between the lakes and mountains. A welcome which couldn't be more impressive. We took a look at the production facility and were impressed by the professionalism, beautiful materials and craftmanschip. RDI is a brand like no other. Perfection is the best term to describe and we are sure we will hear much more about this great brand.
We all know the idea behind Swiss Kubik; Swiss technique in a compact design. The advantage is the great battery lifetime and the possibility to store the watch winder in a safe. You can also take it with you during a travel. Swiss Kubik did present several new styles and colours at Baselworld 2018, which we will see soon in stores and online shops.
The German watch winder brand Chronovision (also owner of Heisse & Söhne) had a great looking booth with many of their bigger watch winders, which are not just a watch winder but an unique piece of art. The Chronovision watch winders are also compact and have a 2-3 year battery lifetime which is perfect. They wind any automatic watch regardless brand or type. This year we can expect more and more new Chronovision watch winders which will be perfect looking and a pleasure for your eyes.
Baselworld 2018 was a success for all watch winder brands. We love to see you again next year.