What makes or brakes a watch winder? Part 2
There are watch winders in all kind of sizes, styles and price categories. But buying the right watch winder is not easy. Till now. In this blog article we inform you about what characteristics of a watch winder are important. Because we all want to have a watch winder which winds any automatic watch perfectly, is easy to use, looks good and is affordable.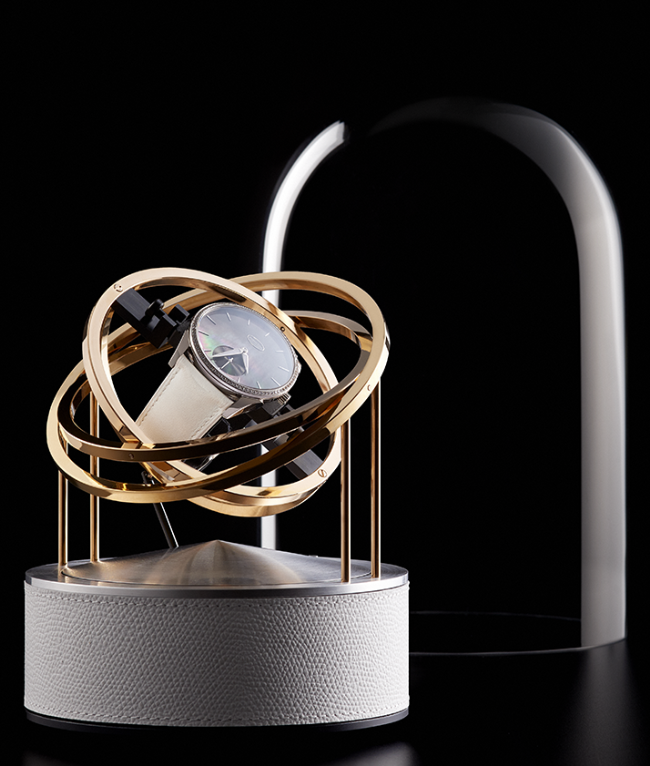 Motor and gearbox
The most important parts of a watch winder are the motor and the gearbox. The motor and gearbox work together and makes sure the rotation of the cup with watch holder is smooth and the most silent as possible. It's important to buy a watch winder with a good motor and gearbox. With a low quality motor and gearbox you can experience defects and an increase of the sound level. A durable motor and gearbox will last for years and make sure any automatic watch is wound. Good motors are made in Japan, Germany and Switzerland.
Materials and parts
Next to the motor and gearbox the use of materials and parts is important. The parts must be durable, strong and suitable to use every day. For example the watch holder and control panel must be reliable as you use both it a lot. The better the materials, the better the parts. We prefer watch winders with stainless steel, wooden exterior and glass. Wood absorps the sound and is durable. Glass is stronger than plastic and looks much better, and gives the watch winder a more luxe appearance. We see a lot of watch winder brands still using cheap materials. It all looks nice, but when you start using it you will notice the lack of quality and often these parts go defective. Sometimes these parts cannot be replaced or fixed. When there is no warranty left after 1 or 2 years…what can you do? It's better to spend a little more money and make sure the watch winder is made of proper materials and durable parts.
Pricing
A watch winder is a device with a motor, gearbox and electronics. The exterior is made of wood, glass, metal or aluminium. All these parts and materials together must be a harmony to give years of pleasure of the watch winder. Therefore we advise to choose a good brand, durable motor and gearbox combination and of course a reliable seller which sells well know brands. Pricing is of course very important. The price of a watch winder depends on the motor and gearbox, materials and origin of the device. For example Swiss watch winders are mostly more expensive than watch winders made in Germany, Italy, US or China. Because of the Swiss made label. Are these Swiss watch winders better than watch winders made in these other countries? Not always. Also in these other countries they produce very good watch winders, even in China.
Please note that cheap watch winders mostly don't give the pleasure you expect. Spending a bit more money is wise. We always say that you can buy a fine watch winder from 150 euro (single watch winder). When you want a watch winder with a bigger capacity then the price will automatically rise. Also when you prefer a watch winder made of very nice materials, which has a special design or is made by hand, the price will raise. Always ask the question; is my watch winder ment just for winding my watch(es) or do I need the watch winder also to be an eye catcher? An watch winder as eye catcher will always cost more….
One last advise; always buy at a watch winder specialist!