Benson Compact Aluminium 1 Light Gray watch winder
When you decide to purchase a luxury automatic watch, it cannot be called complete without a matching watch winder. If you own several automatic watches, or are perhaps even the proud owner of an entire collection, this is all the more true. An automatic watch contains a very advanced piece of technology, namely an automatic movement. This timepiece can only function through movement. This is ideal when you wear your watch, because you don't need batteries for this. Your wrist automatically takes care of the winding of your automatic watch, simply through the natural movements you make with it. However, when you do not have your watch on your wrist, your watch will not be wound. This means that your automatic watch can stop. Not only do you have to reset your watch, it also means a risk of inaccuracies in the time display of your watch. Of course this is something you want to prevent, you can do that by purchasing a good watch winder.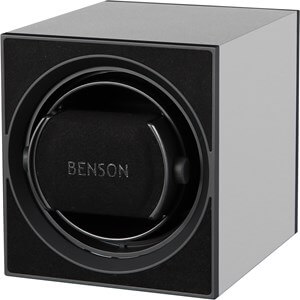 Depending on the capacity of the watch winder, you can wind one or more automatic watches in it. This eliminates the risk of your watch standing still and also ensures that the oil in the watch is properly distributed. This contributes to the preservation of the watch. In addition to the winding function, a good watch winder also offers a storage function and in some cases a display function for your watch. It should be clear that as the owner of one or more automatic watches you absolutely want a watch winder.
When you look for a watch winder that suits you and your automatic watch(s), it is wise to read carefully. There are many different types of watch winders. There are many options not only in terms of quality and price, but also when we look at design and any additional options, there is a lot to choose from. We are happy to tell you more about a specific watch winder from the Benson brand. Benson is a Dutch brand. Benson has a lot of knowledge and experience in the field of the luxury automatic watch and the inextricably linked watch winder. As a result, Benson not only knows how to offer watch winders with a very good price/quality ratio, but also to realize an extremely high level of user comfort. For example, there are many Benson watch winders in the collection with nice extras. You can think of built-in LED lighting, extra storage space or a power winding function. In this article we would like to talk specifically about the Benson Compact Aluminum 1 Light Gray. This is a watch winder that comes from the latest generation of Benson Compact Aluminum watch winders. The Benson Compact Aluminum 1 Light Gray is a watch winder with which you can wind a single automatic watch. This model is perfect if you are looking for a compact design that you can easily take with you. The Benson Compact Aluminum 1 Light Gray is not only small, but also light in weight because this watch winder is made of aluminum. If you like to take your watch winder and watch with you to the office or, for example, on a trip, this Benson model is therefore an excellent choice. The Benson Compact Aluminum 1 Light Gray has a light gray color, which is suitable for almost any interior. However, there are several colors of this model available, such as black, dark gray, white and blue.
The Benson Compact Aluminum 1 Light Gray is powered by a very high quality Japanese motor. These motors are powerful, energy efficient and also quiet in use. The Benson Compact Aluminum 1 Light Gray is suitable for winding any automatic watch, regardless of the brand or type of automatic watch. This model is also fully adjustable, using the handy LCD screen. This way you can determine the exact direction of rotation and the number of rotations per day for your watch and thus determine the ideal conditions for arousal. The Benson Compact Aluminum 1 Light Gray also offers the programs CW, CC and Alt and an overwind protection. This last function serves to protect your automatic watch against overvoltage. This Benson model also offers a nice extra, the special built-in LED lighting ensures that you can keep your watch perfectly in sight at any time of the day. This watch winder is powered by an adapter, but this model can also function by means of batteries. Because the watch winder can function for 6 to 9 months on a set of batteries, you hardly have to worry about this.
If you would like to order the Benson Compact Aluminum 1 Light Gray, you can view it better in our webshop. We supply this Benson model with a 3-year warranty and a clear manual. We also carry the entire other Benson collection. If you would like advice on which Benson watch winder suits you best, you can always contact us!
Read more >>Posted on 16 August 2023 at 5:08 PM