Benson Black Series watch winders 2019
Posted on 4 May 2019 at 5:31 PM
In 2016 the Dutch watch winder brand Benson did launch their Black Series watch winders. This line of watch winders immediately became very popular and successful. With more than 250 resellers worldwide you can buy a Benson Black Series watch winder at high end jewellers and the better online watch winder shops. What makes the Benson Black Series watch winders so popular? This question is easy to answer for us....as we tested these watch winders for many months with several watches, from Tag Heuer, Seiko to Breitling.
When we take a look at the Benson Black Series watch winders we see a very modern and stylish design. The materials are solid, functional and have a nice finish. The watch winders have a luxurious look and feel. When we take a look at the functions these watch winders are suitable to wind any automatic watch. The direction of rotation (right, left and alternate) can be set and also the number of revolutions per day (turns per day: TPD). This for each rotor individually, which allows you to set each winder exactly like the automatic watch demands.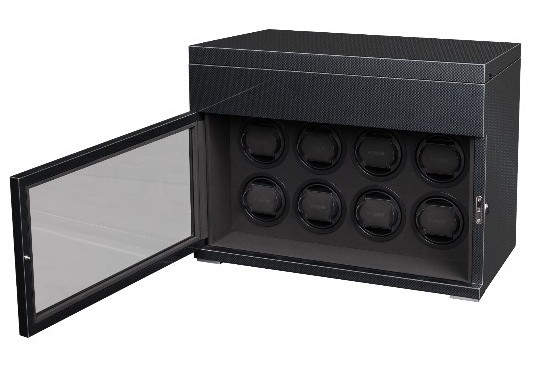 With the LED light you can create a perfect atmosphere to see the watches rotating. It's functional but mostly a feature which gives a nice look. The velvet inside the watch winders makes sure the watches cannot be scratched, they are perfectly safe inside. With the extra storage compartment you can store extra watches or even jewellery.
The Benson Black Series watch winders are available for 1, 2, 4, 6 and 8 automatic watches, and a few months ago Benson launched its Black Series Pro watch winders which are suitable to wind 12 and 16 watches. The nice thing is that these watch winders are available in different colours; black, white, macassar and carbon fibre. There are also two Limited Editions available, in brown and red colour (with padded leather on the outside). These last models are real eye catchers and limited at 250pc per model.
All Benson Black Series watch winders are delivered with an universal adapter so you can use the watch winder worldwide. Thereby each watch winder comes with a manual, certificate and 2 years warranty. The prices are very acceptable and lower than any other watch winder brands offering the same quality. This makes the Benson Black Series watch winders a great choice.
We enjoy our Benson Black Series watch winder everyday. It winds our automatic watches perfectly and the watch winder itself just looks great. In this price category it's the best watch winder available and we are looking forward to many new Benson watch winders to come. In our opinion Benson did a great job by producing high quality watch winders for a very reasonable price. Many consumers and retailers already know this as well, looking at the succes of the Benson Black Series watch winders.