Bernard Favre Planet double-axis watch winder
Posted on 31 October 2019 at 1:35 PM
There are several Swiss watch winder brands, and one of the best is Bernard Favre. This brand creates high end watch winders made of beautiful materials. But even more special is the way how they wind an automatic watch.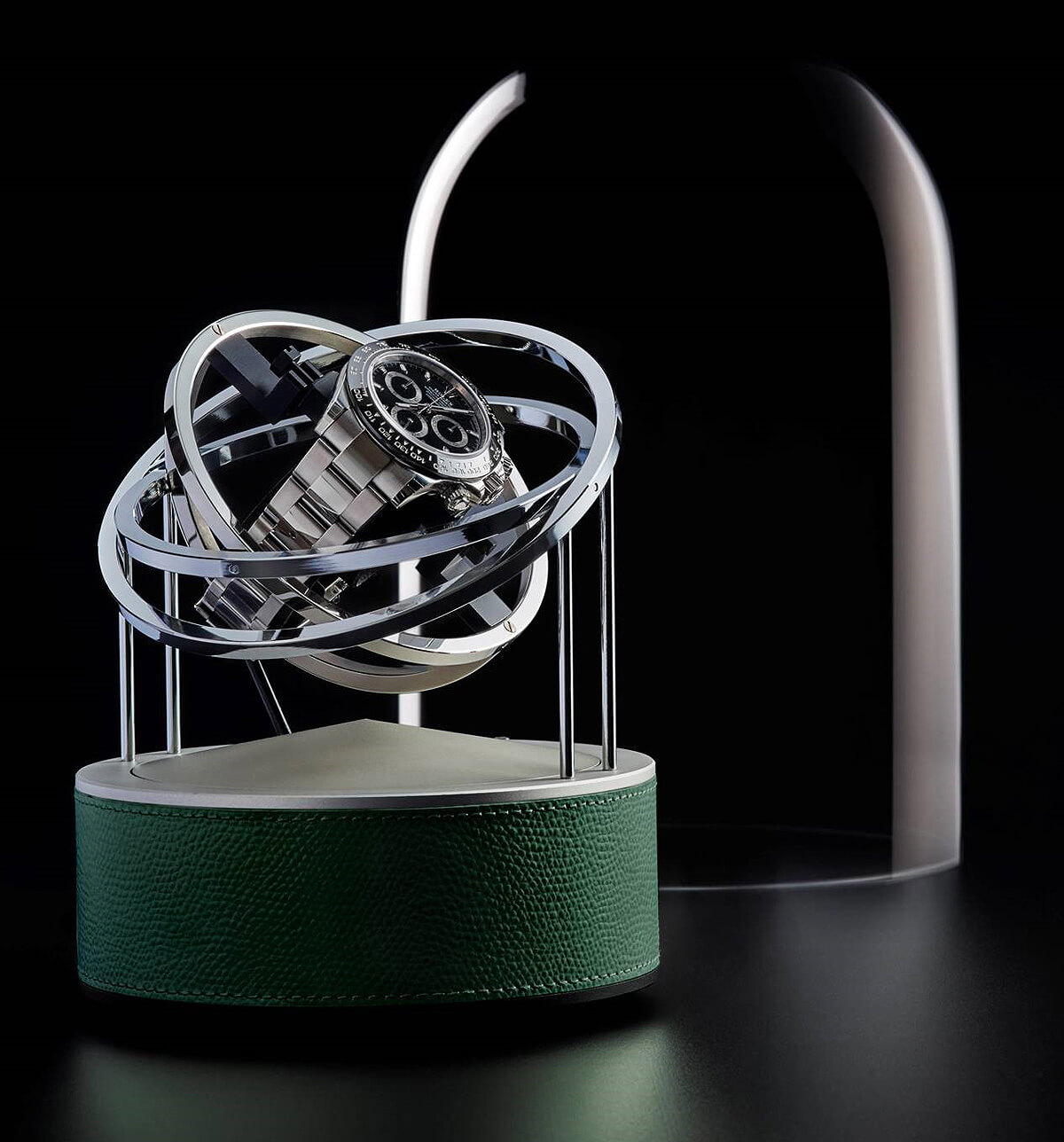 Bernard Favre's double-axis Planet watch winders keep your automatic watches wound at an optimal level so that they are ready to wear at a moment's notice. They look fantastic and are mesmerizing to watch in operation. They are a piece of art.
Unlike many watch winders on the market, the double-axis Bernard Favre Planet does not overwind watches thanks to the nine program options, ensuring an optimal winding setting for any automatic watch. There is even an eye-catching exhibition program if drawing attention to a featured watch is the aim. A concealed switch in base selects programs, while a slot for a USB key allows for loading custom winding programs adapted to your watch's calibre. This makes the Bernard Favre watch winder a perfect watch winder for those watch collectors with watches from Breitling, Omega, IWC, Patek, Tag Heuer etc etc.
The Bernard Favre Planet double-axis watch winder is made to the highest Swiss standards and features a black sandblasted base with leather option, and with polished, black or gilded stainless steel rotation rings. The quiet, high-efficiency Swiss made motor runs for three months on a single charge on the standard program and is ultra-silent thanks to acous-tically-sealing O-rings in the base. The battery is quickly charged by a simple USB cable and can be left permanently connected. An elegant glass dome both protects the watch from dust and curious hands as well as adding to the mystery of the kinetic ballet within.
Each Bernard Favre watch winder comes with 2 years warranty, manual and adapter. The watch winder is very easy to use, gives a beautiful view on the watch and is made of the best materials. As a real watch collector what do you need more?
You can find the complete Bernard Favre watch winder collection at Watchwinders.com.