Interview with Valentin Balter, CEO of Kunstwinder
Posted on 20 March 2017 at 6:44 PM
Kunstwinder from the USA produces very special watch winders. Their feeling for art and technique is incredible and now we have the chance to learn more about the man behind Kunstwinder, Valentin Balter.
Could you please introduce yourself and function at Kunstwinder watch winders?
I'm Valentin Balter, the founder and president of Kunstwinder. I have a Master's of Science in Mechanical Engineering and over 30 years of experience working for leading Silicon Valley companies in the fields of disk drive, semiconductor equipment, biotechnology and medicine, high-precision positioning systems, and robotics.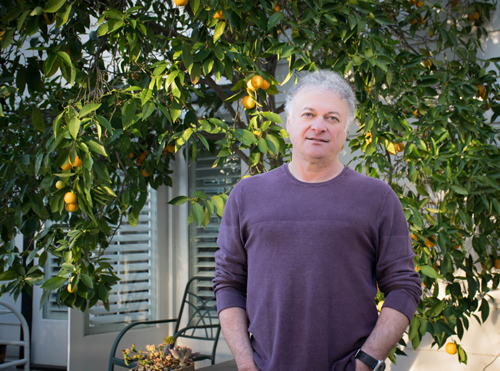 How would you describe the Kunstwinder company?
At Kunstwinder, we combine artistry and functionality to create exceptional watch winders worthy of displaying your most valued timepieces. We don't compromise function for art, or vice versa, as our methods work together in harmony to produce aesthetically and mechanically exquisite winders. We incorporate references to art, history, mythology, and technology into our designs, making each watch winder a true conversation piece.
How would you describe the Kunstwinder watch winders?
Our style prioritizes craftsmanship and attention to detail. We use top quality materials, such as natural stone like Brazilian Onyx and Sardonyx, in conjunction with state of the art techniques to produce our winders. A new color anodizing process called Anographics, which involves high-resolution printing on an anodized aluminum base, allows for customization of the watch winders; any graphic, photograph, or piece of art can be used. In fact, one of our recent collections features an art piece by Hieronymus Bosch in honor of the 500-year anniversary of his birth. Our emphasis on quality and professional workmanship means that we have a limited series of production and one of a kind pieces, perfect for watch aficionados who want a unique winder to showcase and maintain their own curated collections.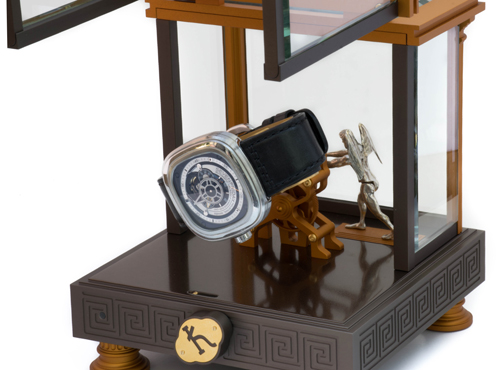 Can you tell us more about the production process?
Kunstwinder is located in Silicon Valley, California, the epicenter of innovation, creativity, and superior production. All of the manufacturing and assembly is performed at the Kunstwinder machine shop, where parts are machined on high-precision CNC mills out of Aluminum and stainless steel. Onyx inserts are also machined in house. Swiss gear motors ensure that our watch winders operate noiselessly and reliably, which completes the refined effect that is a hallmark of all Kunstwinder designs.
What are the main markets for Kunstwinder? And can you tell us more about the business structure; do you have distributors, dealers or do you sell directly to consumers?
Due to the level of workmanship and detail that we devote to each watch winder, our market is comprised primarily of aficionados and experts that seek superior quality and artistry. We do have some distributors, such as Stephen Silver, OriginTimes.com, windingtime.com, and Amazon.com. We also sell directly to customers through our website.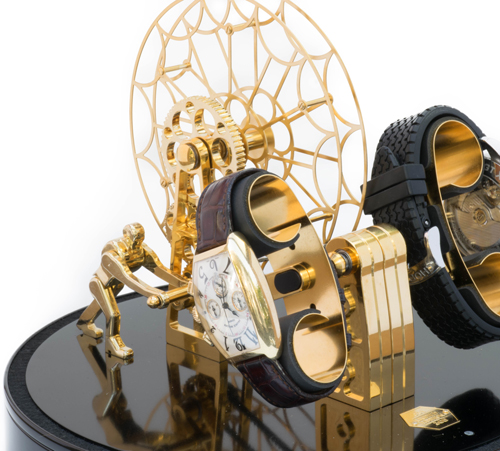 With internet upcoming, do you consider to sell online by strong internet dealers?
Yes, we'd like to make our Kunstwinder watch winders more widely available for purchase through strong, and most importantly reputable, Internet dealers.
In which way will Kunstwinder develop the coming years? What will be the focus?
In the years to come, we will continue to push the creative envelope by exploring the use of new materials and finishes, and we also plan to focus on further customizing our watch winders to cater to niche and demanding markets.
If you would compare Kunstwinder with another brand, which brand is this and why?
I'd compare Kunstwinder to the Döttling brand of watch winders, due to our shared innovative spirit and precision mechanical work.
What new projects can we expect soon?
I've always been fascinated by windmills -- the old ones, as well as the new, power-generating ones – so that might be part of a future design or collection.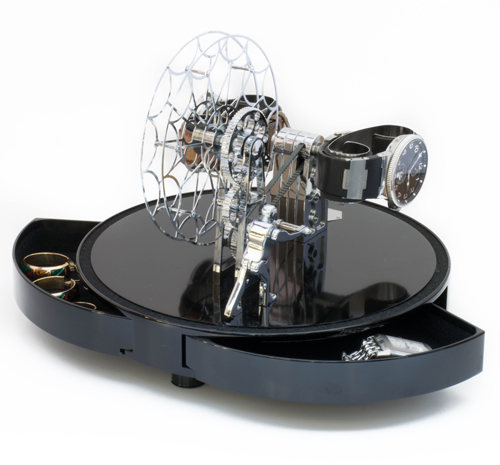 Why should we buy a Kunstwinder watch winder?
We are unique for our combination of imagination and craftsmanship; Kunstwinder is the only brand of watch winder that will beautifully showcase your most precious timepieces while also maintaining them at their optimal levels of functioning. We produce top-quality watch winders to suit every taste and collection, from simple and sophisticated designs to more impactful statement pieces, all of which operate with the seamless mechanical precision that is the mark of a Kunstwinder piece.