Rapport watchwinders, old fashioned or retro?
Posted on 3 January 2014 at 11:55 AM
Rapport was founded in 1898 when Maurice Rapport produced his first wristwatch and started his timepiece company. Nowadays Rapport only produces watchwinders and watch boxes to store watches.

With more than 115 years of experience Rapport is one of the oldest companies, active in the field of watches, producing watchwinders. Since the 1980s designers of Rapport did create a blueprint for a range of watchwinders with advanced mechanics.
Last year we visited Baselworld and did take a look at the booth of Rapport. We spoke with Oliver Rapport (the director) and Brian Barton (sales manager). They welcomed us and gave us an introduction about Rapport watchwinders. We noticed they are very passionated about their products which is quite important. In this economic hard times it's important to believe in your brand and products.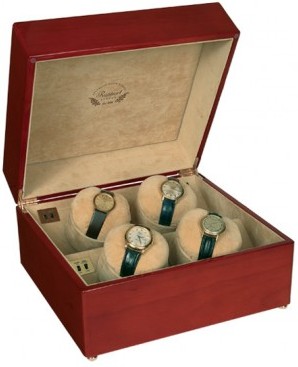 Then we took a look at the current collection. We must compliment Rapport watchwinders with their design and finishing. The materials are beautiful and the design is luxury. Though, we noticed many models have the same design; classical. Only the new Evolution series has a more modern look but is only a small part from the total collection.
It seems Rapport watchwinders does focus on the traditional watch lover using a classical watchwinder. But in our opinion Rapport misses a big part of the watchwinder market, because many watch lovers prefer a more modern design. Brands as Wolf, Swiss Kubik and Eilux do produce modern watchwinders which are quite popular.
If you're interested in a more classical looking watchwinder, Rapport would be your choice. The watchwinders are beautiful, the technique is solid and the retailprices are fair. But don't waste your time if you're interested in a modern watchwinder, except the Evolution series Rapport has not much to choose.
We would welcome a more modern Rapport watchwinder series and are very curious about a design they would choose. Maybe Baselworld 2014 will bring more news.....