RDI Memoire watch winder
Posted on 8 May 2017 at 10:43 AM
In this blog article we write about "Mémoire", the watch winder from RDI-Charles Kaeser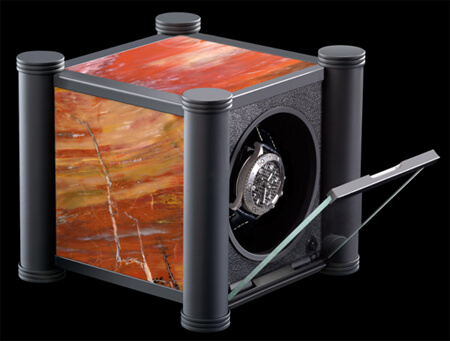 Set off on a journey into the furthest reaches of time, and contemplate the memory of our beautiful planet in the fossilized wood that composes each side of this winder. Imagine a story that began 225 million years ago, when dinosaurs roamed and the land was covered in dense primal forest. After two cataclysms, a mixture of water, ashes and other sediments has penetrated this tree well preserved. Function of the porosity, these minerals penetrated the trees at depth, using the wood fibers leading the sap.

Speaking from the tree, the trunk or the path taken by the tree: everything is unique. Taking account of this, we find the origin of the colors so different, even from one tree to another, speaking from the same species. To give only some examples: red, orange, yellow, are the witnesses of the presence of iron; black of carbon; blue, purple, of manganese. A very rich outfit of colors, so well expressed in the winder: Mémoire.

The deposits of fossilized wood are rare and very often protected as natural fossil heritage of the country where it is. The rare countries which authorize the extraction and the marketing of the fossilized wood make it in a statutory way. The petrified wood is rare, its extraction is difficult, and all step of the extraction is asking for the highest protection of the tree. We appreciate the technological achievement with this thinly meticulous polished layers of the tree we find in Mémoire. Every watch winder is unique and is a magnificence work of art. Mémoire, the real guard-time which makes you go back in time with this very rich pallet of colors.

We have heard that RDI-Charles Kaeser reserves us some surprises during the year.