The new Benson Smart-Tech II watch winders
Posted on 10 March 2019 at 9:01 AM
Most people who have automatic watches also want to have a watch winder to maintain their watches and keep them running so that they can wear the watch, without the need to adjust it, anytime. A watch winder is not only very handy but also good for your autmatic watches. The watch winder is a safe place to store watches all together, well protected against moisture and dust. But most important is to keep the watches running which ensures a good oil allocation within the movement. In short, a watch winder has different advantages!
Watch winders are available in all kind of designs, capacities and materials. Of course price is an important factor. There are some watch winder brands which offer a great price/quality ratio. One of these brands is Benson, based in the Netherlands and for several years one of the most popular watch winder brands in Europe. Since the launch of their Smart-Tech series in 2011 many watch adepts use a Benson watch winder. The Smart-Tech series is known for its quality and very affordable price. The nice thing about these watch winders is that they offer all functions you need to successfully wind your automatic watch. You can select the direction of rotation, turns per day and even control the LED light. Therefore the Benson Smart-Tech watch winders are suitable to wind any automatic watch, regardless brand or watch model. Good to know is that each rotor can be set individually, so you can place your entire watch collection in it to wind the automatic movements.
In the middle of 2018 Benson watch winders launched the Smart-Tech II series. This new series is based on the Smart-Tech series from 2011, but has a more modern design and better technique. With a complete glass door the watch winders offer a great view on the rotating automatic watches. The drawer behind the glass door allows you to store extra watches or jewellery. The watch holders are suitable for all sizes of watches, big or small.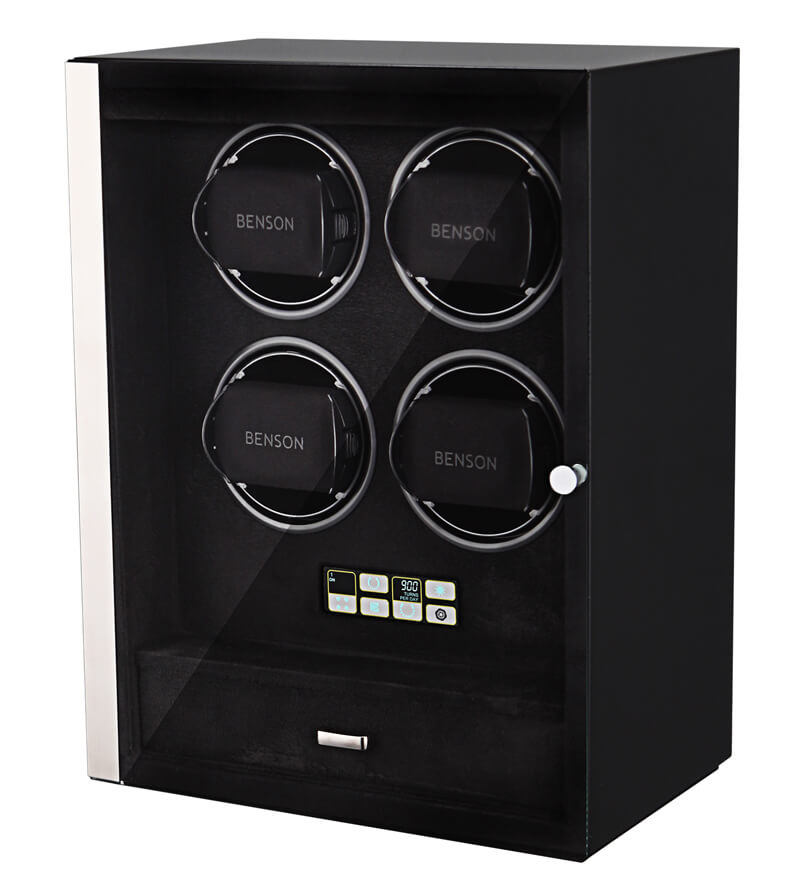 The best thing about the new Benson Smart-Tech II watch winders is the unique price/quality ratio. We tested the Benson Smart-Tech II watch winders for several months and are still surprised about the quality offered for this price. Each watch winder comes with 2 years of international warranty, strong packaging and manual. Of course an adapter to use in the US, EU, UK or Asia is supplied as well.
Are you looking for a great watch winder for an affordable price? Then you really should consider the Benson Smart-Tech II watch winders. You can buy them here.