Van Speyk Dutch Diver and Swiss Kubik
Posted on 10 October 2015 at 3:55 PM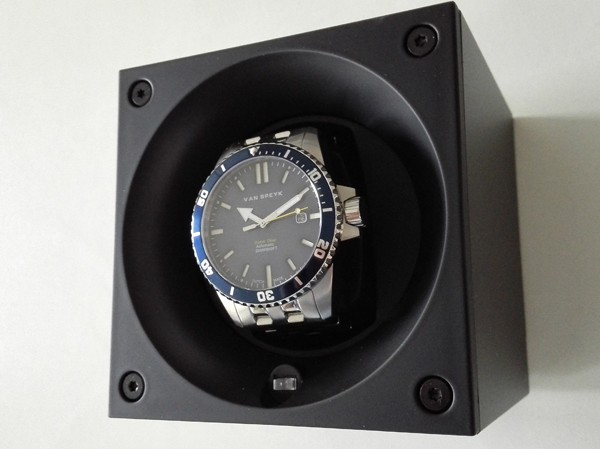 The Dutch watch brand Van Speyk launched its first models in 2011. Last week Van Speyk presented its newest Dutch Diver models, which are produced in the Netherlands (Dutch made). Normally we don't write about watches but as announced we like to write an article about watches in combination with a watchwinder. For this review we did choose for a combination with the Swiss Kubik aluminium black. This watchwinder is one of the most popular models from Swiss Kubik and a bestseller since a couple of years.
Van Speyk Dutch Diver
The new Van Speyk Dutch Diver watch does surprise us. The specs are very good (Miyota movement, sapphire glass, 200m waterresistant, screw crown and double layer dial) but more amazing is the very interesting price; 329,00 euro (incl. 21% VAT and free shipment worldwide). We received the blue Dutch Diver from Van Speyk and the blue color is intriging. It's a dial color which is quite normal for a watch, but it looks very nice. The advantage is that the watch is easy to combine with all kind of clothing. Blue simply does match with a lot of colors.
We did test the Van Speyk Dutch Diver for two weeks and it keeps time perfectly. At night the luminova does its work fine. We didn't go snorkling or diving with it, which we should have done with a diver, but we expect the watch is extremely well protected against water as Van Speyk promised it us.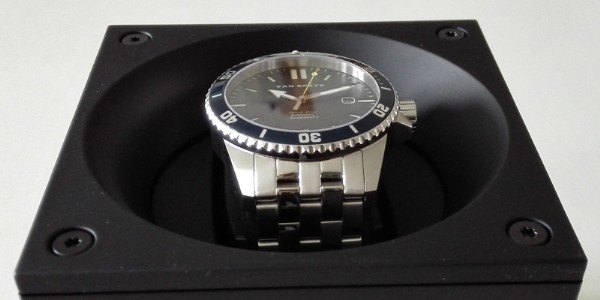 Swiss Kubik aluminium black
One of the most popular watchwinder brands in the price level from 400 to 900 euro is Swiss Kubik. The watchwinder is compact, effective and easy to control. It will wind any automatic watch without a problem. The battery function is great to use the watchwinder at a travel or inside a safe. The Swiss Kubik models don't use a Swiss motor anymore, but it's still a good watchwinder for an interesting price. A big advantage is the three year warranty, where many other brands only provide two years. Some call it a detail, but we think it's proof of good service and aftersales.
We hope Swiss Kubik will introduce new models soon, as most available models are on the market for several years. Swiss Kubik watchwinders did prove its quality and therefore we are very curious about new models in another design.
The Van Speyk Dutch Diver wound by a Swiss Kubik watchwinder
As an automatic watch the Dutch Diver has a powerreserve of about 40 hours. Without any movement the watch will loose its energy, and that's exactly the reason why a watchwinder is so handy. We did wind the watch with the Swiss Kubik watchwinder and we found out it's a perfect combination.