Paul Design Petite 8 Leather Black watch winder
Posted on 24 February 2023 at 8:36 AM
Within the watch industry, a gap has arisen for a longer period between the European market that developed high-end watch winders and the Asian market that offered cheap watch winders, of significantly lower quality. The special brand Paul Design, which originates from the UK, saw it as its ambition to fill the space between the two worlds. The man behind this brand, Paul Chen, therefore aspired to produce watch winders of excellent quality at a competitive price. Paul Design has managed to appeal to a new target group and has also managed to put its name on the map with a collection of stylish and high-quality watch winders. The Paul Design watch winders are made of durable and high-quality materials. The design is designed in such a way that the watch winders have an elegant and luxurious look and at the same time offer a very high level of user comfort. What is also striking is that the watch winders from Paul Design are equipped with high-quality technology. The heart of the brand's watch winders is formed by high-tech Japanese motors, which ensure that every brand and type of automatic watch can be supplied with energy without any problems.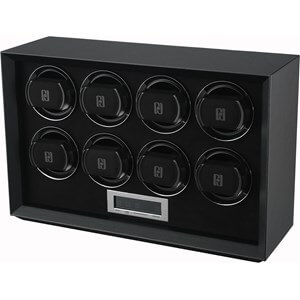 The Paul Design collection is extensive and diverse. The brand offers watch winders for every enthusiast. Whether you own 1 or a few automatic watches, or you own an entire collection, Paul Design offers a suitable watch winder for you. We would like to further explain a specific watch winder model from the Paul Design collection for you. We are talking about the Paul Design Petite 8 Leather Black. This watch winder offers space for winding 8 automatic watches at the same time. This watch winder has a compact design and is therefore easy to place and move. This model by Paul Design is made of leather and therefore has a luxurious look. The watch winder is made in black on both the outside and the inside. The solid basis of this watch winder from Paul Design is formed by high-quality Mabuchi motors. Because these motors offer several great advantages, they increase user comfort. To begin with, these motors are reliable, which is of course a prerequisite. In addition however they are also energy efficient and have a low sound level. You can therefore easily place this watch winder in places where silence is desired. You can think of, for example, the office or the bedroom. The Paul Design Petite 8 Leather Black is also equipped with a special modern touchscreen, with which you can change the settings for each rotor separately. For example, you can set the direction of rotation and the number of revolutions per day. Every automatic watch gets the most ideal way of winding in this way. With this watch winder you have the programs CW, CC and Alt and an overwind protection. This last function ensures that your watches are protected against overvoltage. With the special built-in LED lighting you can put your automatic watches in the spotlight if desired and you have a good view of your watches at all times, even during the winding process. The energy supply of this watch winder is via mains power, with the help of an adapter.
With the Paul Design Petite 8 Leather Black you opt for a stylish and elegant watch winder that doesn't need much space. The real collector can wind and store his beautiful collection in this watch winder, but also present it at the same time. Especially with the beautiful LED lighting, this watch winder is absolutely display worthy. The technology behind the watch winder is extremely modern and therefore provides the energy supply for your automatic watches in the most efficient and safe way. In addition, the oil in the watches is optimally distributed by the movements of the watch winder, which benefits the life of your watches. An extremely complete watch winder and that at a very attractive price. This watch winder can be ordered from us in the webshop. In addition, as an official dealer of Paul Design, we offer many other beautiful models of this special brand, both for the enthusiast with a single automatic watch and for the avid collector. For example, Paul Design also offers various watch winders with extra storage space in the form of a drawer. For example, extra watches, but also other jewelery or cufflinks can be stored in this.
The watch winders from Paul Design are supplied by us with a 2-year warranty and a clear manual, so that you can get started right away. We will of course ensure that your new acquisition is carefully packed before it is on its way. View the beautiful collection of watch winders from Paul Design now and choose your favorite! Do you need help making your choice or do you have any questions? Please feel free to contact us. We have years of experience in this field and will certainly be able to help you. You can also count on us for the best service!