Swiss Kubik Aluminum Black watch winder
Posted on 10-06-2023
How do you recognize a watch winder of unparalleled Swiss quality? A Swiss made watch winder is designed and manufactured by hand with the greatest possible care. Only the best materials are used for this, so that the watch winders remain beautiful for a long time and are very durable. Swiss motors are used for Swiss made watch winders. These motors are known as the best you can get. These motors are of excellent quality and must meet high requirements and conditions in order to be allowed to carry the Swiss made label. Swiss motors are not only durable, but also very reliable. In addition, Swiss motors are known to be energy efficient and also quiet in use.
With this, the user comfort of Swiss made watch winders can always be called very good. A Swiss watch winder is assembled by a true craftsman and is suitable for winding any type and brand of automatic watch. We are happy to tell you more about a Swiss watch winder brand, which has a large and very nice collection of Swiss made watch winders to offer. We are talking about the Swiss Kubik brand, which you will certainly not be unfamiliar with as a fan of automatic watches. Swiss Kubik is a renowned watch winder brand that attaches great importance to innovation and development. Swiss Kubik watch winders are therefore equipped with the most modern technology. With a Swiss Kubik watch winder, you always opt for a safe and mild way of winding your automatic watches.
Within the Swiss Kubik collection you will find watch winders for a single automatic watch, but the brand also offers watch winders for 2, 3, 4, 6, 8 and even 12 automatic watches. Because Swiss Kubik also offers watch winders in different price ranges, the brand knows how to appeal to a broad target group. In this article we would like to tell you more about a specific watch winder from the Swiss Kubik collection, namely the Swiss Kubik Aluminum Black watch winder. The Swiss Kubik watch winders are all cubic and compact, including this specific model from the collection. This ensures that the watch winder is very handy and therefore easy to place and move. This also makes it a good option to take with you on a trip or to work.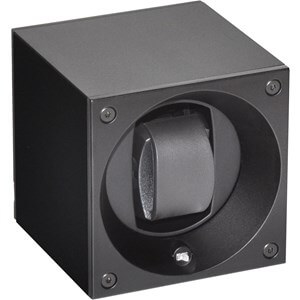 This watch winder is made of aluminum and comes in the color black. This gives the watch winder a luxurious and at the same time tough look. The watch winder is suitable for any brand and type of automatic watch and ensures that the winding of your automatic watch takes place in a mild but effective manner. The Swiss Kubik Aluminum Black is not lockable. If you would like to make your watch winder lockable, it is possible to order a glass door separately. This is easy to attach to the watch winder. This way you ensure that you safely store your automatic watch in the watch winder against harmful influences such as moisture or dust. Of course, this Swiss Kubik watch winder is equipped with a Swiss motor. In addition, this model is easily adjustable in terms of the number of revolutions per day, by means of the handy USB connection.
Of course, the overwind protection is also included, to protect your automatic watch against overvoltage. Finally, this watch winder functions on batteries, up to three years on a set of AA batteries to be precise. This offers an important advantage. This makes it a good option to store the watch winder in a safe and thus opt for optimal safety for your watch and watch winder. In short, with the Swiss Kubik Aluminum Black you opt for genuine Swiss quality and you can be sure that your automatic watch is always ready for use. Because you can prevent your watch from standing still, you don't have to set your watch again and again. In addition, standing still of your watch can also cause inaccuracies in the time display, which is of course very undesirable. A watch winder of the caliber as the
Swiss Kubik Aluminum Black also ensures good oil distribution in your automatic watch. A good watch winder therefore benefits the lifespan and punctuality of your automatic watch and can therefore be called an absolutely indispensable accessory if you own one or more automatic watches.
You can order the Swiss Kubik Aluminum Black watch winder and many other beautiful models from the brand in our webshop. The watch winders from Swiss Kubik are supplied by us with no less than three years warranty. Of course we also include a clear manual, so that you can get started with your new acquisition immediately. Because we are also an official dealer of Swiss Kubik, you can contact us for the best service, the latest collections and the best prices. We are also there for you if you need appropriate advice. Therefore, view the extensive range of Swiss Kubik in our webshop now and choose your favorite!