Bernard Favre watch winders
Posted on 19-05-2023
When we talk about a watch winder brand with class and style, we are talking about the exclusive Swiss brand Bernard Favre. Bernard Favre knows how to distinguish himself from other brands, among other things, by the unique and extravagant designs of the watch winders. The man behind this special brand is Bernard Favre himself, who was born and raised in the heart of watchmaking, namely the canton of Neuchatel in Switzerland. Fascinated by various mechanical items, Bernard Favre found his way to the development and manufacture of fantastic and absolutely unique models of watch winders with a detour through music and sales. As an inventor and producer of custom-made high-end accessories, he has collaborated with the most famous names in the watch industry. He designed the elegant Planet watch winders in 2009 and presented them to the public in April 2011. The Bernard Favre Planet watch winders provide luxury automatic watches with energy by rotating them on their own axis. This movement winds the watch elegantly and also distributes the oil in the watch perfectly. The Planet watch winders alone are a feast for the eyes and can be called a true work of art. When an automatic watch is supplied with energy in these special watch winders, this is a very fascinating sight.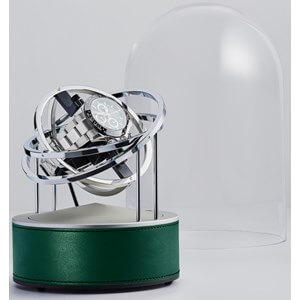 Bernard Favre watch winders are manufactured by hand in Switzerland with the greatest possible care. The best materials are used for this. For example, Planet watch winders from Bernard Favre are available in which materials are used such as leather, stainless steel PVD and even gold. Due to the variety of materials used and the use of different colors, you can choose the Planet watch winder that suits you best. You can choose a more sporty watch winder or a thoroughly classic model. Bernard Favre's watch winders are equipped with the best Swiss made motors. These engines are not only an extremely reliable and solid foundation, they also offer excitement in silence. These watch winders from Bernard Favre are therefore perfectly suitable if you want to place them in places where silence is desired, such as in your bedroom or at your office, for example. Swiss motors are also energy efficient and can therefore be called sustainable. The Planet watch winders are also equipped with a built-in battery (100 days). This makes these watch winders an excellent choice if you prefer to store your watch winder and luxury watch in a safe. The Planet watch winders are supplied with a beautiful dome. This bell jar can be placed over the watch winder. This protects your watch winder and your luxury watch against various negative external influences, such as moisture, dust and condensation. Moreover, this bell jar is also an aesthetically valuable addition to the watch winder, it completes the picture. The Planet watch winders from Bernard Favre are also suitable for winding any brand and type of automatic watch. Whatever automatic watch you own, it is in good hands with Bernard Favre.
A beautiful watch winder model from the Bernard Favre collection is the Bernard Favre Planet Silver & Green leather watch winder. This model from the Planet collection is made of a combination of stainless steel and leather. The beautiful foot of the watch winder is made of a vibrant green color leather, which makes this watch winder an excellent choice for anyone who likes striking colours. The rings above the foot are made of silver and have a glossy finish. This, in combination with the matt foot, makes it a sparkling and unique whole. The watch winder is of course equipped with a high-quality Swiss made motor. In addition, the handy LED indicator shows the status of the watch winder. With the built-in battery, you never have to worry about your luxury watch standing still. The watch winder also offers the programs CW, CC and Alt and an overwind protection. In addition, the number of rotations is adjustable. With the handy USB connection you can charge the watch winder using mains power, smartphone or PC. In addition to this model, Bernard Favre also offers the Bernard Favre Planet Black & Green leather watch winder. This model is also equipped with a beautiful leather green foot, but then combined with rings of stainless steel PVD in the color black. If you prefer a more robust and sportier-looking model, this is an excellent choice.
Watchwinder.com is an official dealer of Bernard Favre and that is why you will find an extensive collection of exclusive watch winders from the brand in our webshop. We supply these with a 2-year warranty. Moreover, if desired, we can provide you with appropriate advice or an answer to your questions. We have almost the entire Bernard Favre collection in stock, so that we can be of service to you quickly. The watch winders are extensively tested and checked before delivery and carefully packaged before they go on their way. You will receive your Bernard Favre watch winder in a luxurious leather case, with an adapter, certificate and manual.